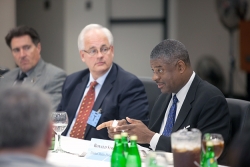 Los Angeles, CA, October 22, 2012 --(
PR.com
)-- Deputy Postmaster General Ron Stroman visited the Los Angeles International Service Center where he and a group of business customers discussed how the Postal Service could better serve them now and in the future. TransGuardian President Jim Moseley (
www.transguardian.com
) was among the few businesses selected to attend.
Stroman emphasized the importance of maintaining world-class service by scanning every piece of mail. "Our customers want to see this," he said.
Moseley presented a USPS-produced DVD entitled "Growing the Revenue – Securing the Future." In this video, the USPS interviewed Moseley, who recounted how TransGuardian worked with the USPS and Endicia.com to pioneer the creation of the USPS 5630 SCAN Form.
"This SCAN Form," said Moseley "was the key tool that made money-saving USPS Express and Priority Mail a primary choice for shippers of high value merchandise. It gives proof of carrier acceptance with a single scan for batches of parcels entering the mailstream. This is a mandatory chain-of-custody feature for high-value shipments. It gives tracking visibility from door to door. The very first SCAN Form ever used in real life hangs in TransGuardian's Los Angeles office."
TransGuardian is an online multi-carrier software service that delivers PC postage and deeply discounted shipping insurance up to $150,000 per parcel worldwide via Wells Fargo Insurance Services.
"Visiting Los Angeles has been a highlight of my tour," Stroman said. "I know when I come back the numbers will reflect the USPS' dedication and hard work to improve customer service."