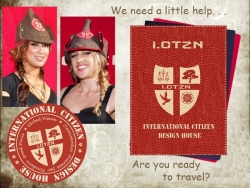 Los Angeles, CA, October 23, 2012 --(
PR.com
)-- International Citizen Design House is the newly-launched must-see fashion label started by industry veterans Sheena Gao and Laura Krusemark. Following fifteen years of guiding the design choices and purchasing planagrams of major retailer employers, and educating/mentoring young designers as teachers in respected west coast design schools, this dynamic duo have shucked the corporate safety net, and blown off the educational arena (remember Ghostbusters?) to brave the entrepreneurial peaks.
Considering the girls history and knowledge that retailers often control fashions between tightly related companies and entities, they have further shunned convention by taking their incredibly light, casually-elegant fashions direct to consumers through an offering on Kickstarter.com.
These independent women seek a direct connection to their clientele. They design in graceful drape, easy to wear, wrinkle-free fabrics. Sheena Gao, co-founder of i.CTZN says, "Our clothing is made from cotton jersey and french terry that is ultra-soft and super-comfortable. It's especially great for the traveler as it doesn't wrinkle, is easy to pack, and is great for layering into a sophisticated appearance and edgy style.
"International Citizen has all designs and specifications completed, and our manufacturing is in place. With a little help from the consumer, we can build a brand that promotes one world, one people, as you directly choose fashions you wish to succeed."
According to Marc Guest, V.P. of Sales and Marketing, "Kickstarter has changed the paradigm by providing direct to consumer access to young companies like ours. This new model has brought in over $3.4 million for a firm with an old-fashioned RPG video game (see Double Fine Productions), and over $10 million for a company with a new 'smart watch' prototype (see Pebble Watch). And it generally does this within 30 days."
Laura Krusemark, i.CTZN co-founder says, "We wondered what a fashion project like ours could do, as we had always envisioned a way we could contact our customers directly, using smart media tools and resources. If a potential customer sees our fashions, on Kickstarter, and find us to be 'in touch', the sky is truly the limit!"
To view i.CTZN's fashions/project video click here:
http://www.kickstarter.com/projects/1601457620/ictzn-unique-clothing-with-international-style-and
Laura and Sheena are available for interview.