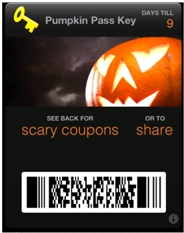 Dublin, CA, October 24, 2012 --(
PR.com
)-- Announcing PumpkinPass...a Halloween shopping and fun pass. Download it into your Apple Passbook®, then use it to search for other Halloween-themed discount coupons and fun events.
No app required…just enter "pumpkinpass" directly into your iPhone browser or text the code "pumpkin" to 77948. (You must have iOS6 and Passbook installed).
PumpkinPass lists other Halloween coupons and ideas on its back page, updated daily by the ghouls and monsters at PumpkinPass headquarters.
Pumpkinpass was created by a group of Passbook hackers and students, to demonstrate how easy and fun it is to use Passbook. "Right now you have to download apps to get passes for your Passbook," said Jim Bonner, founder of the group. "And that is just way too much work. Downloading passes directly from a webpage takes just a few seconds."
In addition to Pumpkinpass, the group is launching passes for Thanksgiving, Christmas, Valentine's Day, and Birthdays.
Status: in public Beta test
Powered by: PumpkinPass is powered by the Passjoy engine, a server technology that links Apple Passbook to e-commerce, marketing, and advertising.
About Passbook: Passbook is a registered trademark of Apple Computers Inc. PumpkinPass is in no way affiliated with Apple Computers, Inc.