Sherrilynn Kenyon, an Honored Member of Cambridge Who's Who Has Been Recognized for Her Achievements in Writing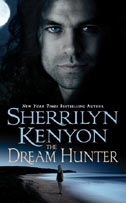 Spring Hill, TN, July 13, 2007 --(
PR.com
)-- Sherrilynn Kenyon, award winning author of the widely-acclaimed series Dark Hunter, Lords of Avalon and The League, has been recognized by
Cambridge Who's Who
for exceptional work on her best-selling vampire, science-fiction, fantasy and romance novels. The Cambridge Who's Who selection committee hand picks these special honorees based on their accomplishments, academic achievement, leadership and service.
Since the age of seven when she wrote her first novel, Kenyon knew she was meant to be a writer. As a college student, she spent all of her free time perfecting her craft by contributing to school newspapers, yearbooks and magazines. Yet her journey to literary fame was not easy. After a drastic decline in the sales of her first book, Kenyon endured economic and physical hardships along with the loss of a family member, which crippled her ability to write. Then in 1999, through unrelenting determination and the support of her husband and friends, she submitted two stories to a publisher. One of them, Apoho, a pirate-themed story, was accepted. Two years later, Saint Martin's Press signed Kenyon to a three-book contract and published the novels from her Dark Hunter vampire series, launching her writing career.
Firmly based on Greek mythology, Kenyon's 19-book Dark Hunter vampire series brought her international acclaim. Several of her novels have been New York Times best-sellers and have won awards in the horror, vampire, science fiction and fantasy genres. Night Pleasures, Kenyon's first book in the series, spent an impressive six weeks on a USA Today book list and was ranked sixth on Amazon.com nine months before its release date in February of 2002. The book has currently sold more than half a million copies worldwide. Over time, Kenyon's other fantasy, horror and romance books series, The League and Lords of Avalon have sold countless copies, won a variety of literary awards and have given Kenyon an extensive national and international fan base. Her latest novel, Devil May Cry from the Dark Hunter series, is due for release in August 2007. For more information about Kenyon's novels, go to http://www.sherrilynkenyon.com
Despite the fame and success of her novels, Kenyon remains grounded and cherishes her family and friends first and foremost. She is actively involved with the Autism Society of America and the American Cancer Society. Kenyon is a member of the Science Fiction Writers of America, the Horror Writers Association and Romance Writers of America. She received her Ph.D. in history from the University of Georgia.
About Cambridge Who's Who
The mission of Cambridge Who's Who is to ensure that Cambridge members receive recognition, support and credibility to advance their careers. Cambridge Who's Who is also committed to delivering the highest quality networking resource for job recruitment, career enhancement and new business development. See who's making news and how Cambridge Who's Who is making a difference at their news blog: http://cambridgewhoswho.blogspot.com/
Cambridge Who's Who members have exclusive access to the biographical information of more than 200,000 successful executives, professionals and entrepreneurs at http://www.cambridgewhoswho.com, where they use the database to share information, knowledge and services. Communication via the Cambridge Who's Who registry travels in two directions, enabling Cambridge Who's Who members to reach out when they have a business need or opportunity as well as receive information on exciting new ventures.
Contact:
Ellen Campbell
516-535-1515
ellencampbell@cambridgewhoswho.com
###
Contact
Cambridge Who's Who
Cynthia Bailey
631-581-6100 x 237
CambridgeWhosWho.com
View their news blog at http://cambridgewhoswho.blogspot.com/ see who's making news and how Cambridge Who's Who is making a difference.

Contact
Multimedia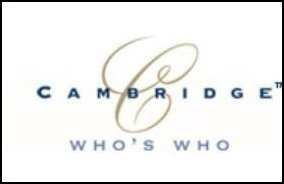 The Cambridge Who's Who registry is a compilation of member biographies highlighting their company, expertise, and achievements. Recognition is a privilege and an honor shared by tens of thousands of members every year.