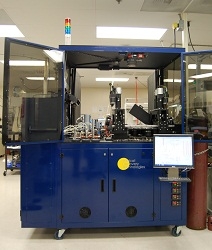 San Diego, CA, November 01, 2012 --(
PR.com
)-- Wildcat Discovery Technologies, a technology company that uses proprietary high throughput methods to rapidly develop new materials, announced today that it has delivered a unique-in-the-world gas sorption measurement device to Lawrence Berkeley National Laboratory. The patent-pending machine was designed, developed and constructed by Wildcat pursuant to a three-year "IMPACCT" grant from the U.S. Department of Energy's Advanced Research Projects Agency – Energy.
Wildcat's unique gas sorption machine enables researchers to conduct research over 100 times faster versus today's commercial systems and also incorporates the use of an industry-first integrated mass spectrometer to directly measure separation selectivity. As a result, Wildcat's device is the only known instrument that can be used to measure both single component gases and gas mixtures. This new ability to measure material selectivity for gas mixtures at a rate of over 100 samples per day is expected to accelerate the discovery of promising new materials for carbon capture and related applications.
Commenting on the delivery of the device, Mark Gresser, CEO of Wildcat, said: "The successful design, development and delivery of this exciting new device is a great accomplishment. Conducting materials research at unparalleled speed is a Wildcat core competency, and we look forward to equipping LBNL's researchers with a tool for their own discovery efforts. We're very appreciative of the funding and support of the U.S. Department of Energy's ARPA-E program that enabled us to build this innovative machine for the great research team at Lawrence Berkeley National Lab."
To learn more about Wildcat's exciting new technology and discovery capabilities, please contact Jon Jacobs at (858) 550-1980.
About Wildcat Discovery Technologies
Recently named one of the "50 Most Innovative Companies" by Technology Review, Wildcat Discovery Technologies is a discovery engine for new materials. Wildcat's experienced team of scientists use proprietary high throughput tools to rapidly develop and optimize breakthrough materials for battery applications. In addition to self-developing breakthrough battery materials, Wildcat performs collaborative work for corporate partners throughout the global supply chain.
www.wildcatdiscovery.com