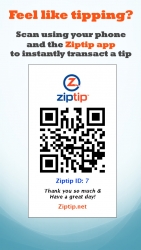 Boston, MA, November 09, 2012 --(
PR.com
)-- Ziptip, Inc., mobile payments for tips and gratuities, announces a new way for restaurant waitstaff to receive tips. Restaurant waitstaff simply display to customers an image, most commonly on a business card, to get tipped. Tippers scan the image using their phones and the free Ziptip apps (for Android or iPhones). For a limited time, waitstaff get free cards when they open their accounts at
http://ziptip.net
.
Ziptips are instantly deposited to the PayPal account of the tip recipient, and, as such, solve many of the problems associated with credit card tipping. Ziptip also solves tippers frustrations too, as many no longer carry cash but still want to give tips. A video describes the new service:
www.youtube.com/watch
Ziptip is not about just providing an alternative to a cash tip; it's also innovating the tipping space in other ways. Unlike regular tips where the tipping opportunity is limited to point of service, by utilizing business cards as part of its solution, Ziptip enables the tipper to tip whenever they like, even after point of service (or multiple times if they feel like it). This was never possible when cash tipping was the only option. Additionally, while cash tipping is limited by social custom, Ziptipping frees up tippers to tip whomever they feel like. After studying the tipping space over the past year, Ziptip CEO Lois Hamblet concluded that the personal connections that transpire to make us want to tip happen in many situations where tipping isn't currently practiced. Some of these connections include but are not limited to musicians, artists, instructors, coaches, retail and café workers.
The Ziptip service is available in over 20 countries.
Ziptip is included in Tech Cocktail's list of Boston's Hottest Startups and its solution has been awarded a number of accolades since and during its development.
Contact Lois@Ziptip.net