Indiegogo Campaign to Help Men Love Mornings (by Waking Them Up with a Vibrating Pleasure-Clock)
Crowdsourcing the Pleasure Clock: inventor Tony Maggs launches Little Rooster Alarm Clock Vibrator for Men campaign on Indiegogo, with prices starting at $49. "Now Men Can Love Mornings Too."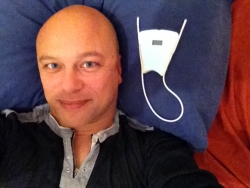 London, United Kingdom, November 12, 2012 --(
PR.com
)-- Most of us hate the sound of our alarm clocks. "So why not make an alarm clock people actually look forwards to?" asked inventor Tony Maggs from London, England.
"We launched Little
Rooster Alarm Clock Vibrator for Women
to global acclaim twelve months ago, and the number one question people always ask me is - when are you going to make a Little Rooster for men?
"Well, if 500 people want one this Christmas, we'll get Little Rooster for Men out early next year."
Little Rooster for Men
is worn in men's underwear. In the morning it starts vibrating so gently that it does not wake users immediately. "Then the power slowly increases. Little Rooster for men is exceptionally comfortable whatever position you sleep in, stays in place however much you move around, and feels gorgeous to wake up to. Why would anybody want to wake any other way?"
Early bird backers on crowd-sourcing site Indiegogo can snap up Little Rooster for men for as little as $49, considerably less than it is expected to go on sale for next year.
British inventor Tony Maggs launched Little Rooster for Women in 2011 and it immediately went global. It has featured in Cosmopolitan Magazine, GQ, Sunday Times, Playboy Morning Show and many others, with GQ naming it "Top Ten Valentine's Gift of 2012." He is available for press, radio and TV talking about Little Rooster, Little Rooster for Men, and crowd-sourcing.
Contact
Little Rooster Limited
Tony Maggs
+44 (0) 20 7193 4149
www.littleroosterstore.com
@RoosterLovesYou
https://www.facebook.com/littleroosterstore

Contact