Transactis Closes Series C Financing Round with MacAndrews & Forbes Holdings Subsidiary
Investment Follows Recent e-Payment & Billing Alliance between Transactis and MacAndrews & Forbes Subsidiary, Harland Financial Solutions.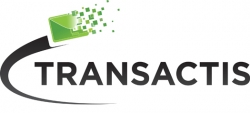 New York, NY, November 13, 2012 --(
PR.com
)-- Transactis, Inc., a leading provider of electronic billing and payment solutions, has closed an $8.2 million Series C financing round led by a subsidiary of MacAndrews & Forbes Holdings Inc., Harland Financial Solutions. This investment follows the recent announcement that Harland Financial Solutions entered into an alliance with Transactis to offer Transactis' BillerIQ solution as a further enhancement to Harland Financial Solutions' suite of electronic payment offerings.
"This investment helps Transactis continue our rapid growth as we serve the vast small and middle-markets through our bank and non-bank partners," comments Joe Proto, CEO & Chairman of Transactis. "MacAndrews & Forbes has expertise throughout its history in the financial services industry and through its portfolio companies, Harland Clarke and Harland Financial Solutions, which are trusted partners to financial institutions. This expertise will prove an important resource to Transactis as we continue to capitalize on strategic opportunities with financial institutions of all sizes."
"We are pleased to welcome MacAndrews & Forbes with their remarkable track record as an investor in, and as fellow Board members of, Transactis," said Larry Bettino Managing Partner of StarVest. "This new capital will allow Transactis to make the additional investments necessary to further accelerate the Company's already strong revenue growth."
"This is not just an important financing event for Transactis, but a critical strategic relationship leveraging both Harland Clarke's and Harland Financial Solutions' deep relationships and expertise with financial institutions that will greatly accelerate Transactis' growth," said Marc Michel, a Managing Partner of Metamorphic Ventures and Transactis Board member.
The proceeds from this financing will allow Transactis to enhance product features and industry-specific functionality, invest in sales and marketing support, and add new channels for growth.
About Transactis
Transactis is helping some of the most well-known banks and corporations securely process eBills and ePayments for businesses of all sizes through platform-as-a-service technology. Transactis eliminates and replaces paper bills and payments with smarter electronic transactions. Joe Proto has three decades in the industry having launched REMITCO (acquired in 2000 by First Data), Financial Telesis (acquired in 1992 by CoreStates now part of Wells Fargo), and co-founded Windham Ventures. Transactis' investors include StarVest Partners, Metamorphic Ventures and senior management.
http://www.transactis.com
About MacAndrews & Forbes Holdings
MacAndrews & Forbes Holdings Inc. is a private diversified holding company with interests in consumer products, gaming, entertainment, financial services, defense, medical devices, biotechnology and other industries. Among the companies in which it holds interests are AM General, Revlon, Faneuil, GlobalScholar, Harland Clarke, Harland Financial Solutions, SIGA Technologies, Transtech Pharma Inc., and Scientific Games Corporation.
http://www.macandrewsandforbes.com
About Harland Financial Solutions
Harland Financial Solutions, Inc. supplies software and services to thousands of financial institutions of all sizes, offering its solutions in both an in-house and service bureau environment. It is a leader in core systems, business intelligence, branch automation, payment processing, enterprise content management, lending solutions, risk management, compliance, financial accounting, mortgage solutions, and self-service solutions. The company is an indirect wholly-owned subsidiary of Harland Clarke Holdings Corp., which also owns Harland Clarke, Scantron and Faneuil.
http://www.harlandfinancialsolutions.com
About StarVest Partners
StarVest Partners, a New York City based venture capital firm with $400 million under management, funds technology-enabled business services companies. StarVest was an early investor in the software-as-a service trend: in 2000, it invested as the only venture firm in NetSuite. The firm's value-added partnership focuses on emerging technology and services sectors including: Cloud-based companies, eCommerce services, Ad Tech and Data Analytics.
http://www.starvestpartners.com
About Metamorphic Ventures
Metamorphic Ventures is a New York City based venture capital fund that invests in seed and early stage Transactional Media companies representing the convergence of digital media and commerce both online and offline. Metamorphic's investments include IndieGoGo, Chango, ThinkNear, Tapad, Sneakpeeq, and Artspace among others.
http://metamorphic.vc
Contact
Transactis
Erica Hamroff
201-427-1120
www.transactis.com

Contact