The Fashion World Media Announces the Patent Publication of Its Fashion Social Network Platform
The fashion world media patent app. provides a support system to enable a contributory user interface for submitting at least an image and for accessing social communication activity data relating to contributory fashion images using electronic devices to connect to a server machine operable for providing social media services. The social media services comprises fashion social media; fashion social network; fashion communication environment; and model media environment.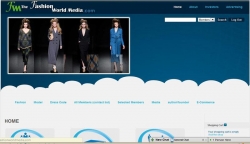 Silver Spring, MD, November 24, 2012 --(
PR.com
)-- Fashion World Media (FWM) announces the patent publication of one of its innovative, fashion-inspired social media platform for improving community cultural values and for advancing community cultural interest aficionados and the general public, found at this link:
www.uspto.gov
, publication number 20120296974. The patent application further covers methods through which the world would capture fashion power-trends by examining the universe of model-related products and beauty services.
The patent application further covers a platform for exploring some of the key fashion industry markers; including:
A. Power Trends
A. Support System for fashion style announcements
B. Centralized Communication-hub for brand awareness
C. Improved fashion community awareness via social networking
Additionally, this social networking environment is configured for managing fashion topics of information in a centralized environment and to be spearheaded by regularly feature individuals, fashion, fashion designers, photographers, makeup artists, hair stylists, beauticians, fashion employees, professional models, fashion outlets, businesses, corporations and other interested, qualified groups, consists of the following:
A. Fashion Media
B. Model Media
C. Dress Code Media
Fashion is love, an art, or an expression, and this platform further allows media content communications. The fashion world media platform is a network environment that allows individuals and companies to capture large audiences through presentation of fashion brands, trends, styles, and awareness. Let your passion for fashion or your product offerings reflect every possible influence on the broad areas of fashion, which isn't defined solely by clothing choices, but is also conveyed through the manner in which people carry themselves that in turn inform and reflect their personalities and world views. Yes, fashion touches on prevailing styles, customs, and behaviors, both individually and collectively.
Further, the fashion world media platform is configured to allow individuals and corporations the opportunity for a ready forum to announce, display, reveal, share and advertise their products. Users of the network are encouraged to project and embrace creative minds to achieve all stated goals. Indeed, this platform is a centralized fashion tool to reach worldwide clienteles thereby facilitating online brand passion, fashion passion, brand postings, and customer loyalty.
The expected positive community impact that the fashion world media platform brings will not only succeed at the above-listed goals, but must also be seen as a potentially effective medium for enhancing brand success, business awareness, generational awareness and, in the long-run, growing a versatile community with noticeable cultural and economic improvements. Fashion world media services include fashion social media; fashion social network; fashion communication environment; model media; dress code media; accessing images, enabling images, transporting images, editing images, filtering images, locating images, posting images, editing posted contents, editing comments, saving images, taking images, enabling tags, discovering fashion topics, enabling interactive app, following a user of the social network, fashioning a user of the network, or modeling a user of the social network.
Let organized, structured fashion be the guide in all this. Let the fashion world media lead you/us there.
Contact
The Fashion World Media
Joseph Tabe
240-462-0487
www.thefashionworldmedia.com
www.youtube/u1KBP1BQiNI

Contact