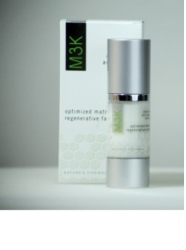 Boulder, CO, December 03, 2012 --(
PR.com
)-- M3K Beauty - the new Dr. Oz inspired Anti-Aging formula that is sweeping Hollywood, has claimed for it's own a chunk of the 30 billion dollar anti-aging market this weekend with the record sell out of its new anti-aging product - M3K Optimized Matrix Regenerative Face Cream. The company had to hit the production line early this morning to restock and fill orders that it took on its website over the weekend. "I knew we had a great product, but just had no idea it would sell out on its first weekend," stated company President Kim S Johnston. "We were left with just one store in Colorado with any stock - the Highlands Ranch Sola Salons Suites. We have been inundated with calls from places as far as Canada and Australia from distributors - it's just amazing."
The formula, based on Dr. Oz all time favorite anti-aging ingredients, is power packed with over 15 of the best ingredients needed to keep your skin looking young. Some might call that overkill, but Johnston claims "It works! This is a formula that actually improves skin. Finally, after a lifetime of a dozen bottles of cream on my bathroom shelf, I have one that makes my skin look and feel like I want it too and I am beyond thrilled."
The cream, based on Matrixyl 3000, Hyaluronic Acid, DMAE, Alpha Lipoic Acid and L Carnosine has proven to be a favorite with Hollywood celebrities, along with the Bare Faced & Fabulous Face Wash/Make up Remover - with Emmy Award winner Dayna Roselli claiming "Its Fabulous! Takes my make up off in one wash - I have never used anything that takes my make up off like this."
Celebrity Make up Artist Kari Kisch says "M3K has rejuvenated my skin to a texture I did not believe possible. With M3k my breakouts are non existent, my skin is hydrated and it feels amazing."
With a more than impressive list of Hollywood celebs lined up for M3K in their Santa Sack - Angela Basset, Eva Longoria, Jane Lynch, Heather Morris, Kim Kardashian, Halle Berry, Charlize Theron, Mary J Blige, Jennifer Love Hewitt, Courteney Cox Debra Messing, Paris Hilton, Miley Cyrus, Kathy Griffin, Chelsea Handler, Nancy O'Dell, Emily VanCamp, Leah Remini and Aisha Tyler - M3K Beauty is sure to soon become a household name.
But don't forget about Hollywood's leading men: the fat man in the red suit will be bringing our favorite men - Ashton Kutcher, Ryan Gosling, Justin Timberlake, Stonestreet and funny man Daniel Tosh M3K's famous Dirty Boy for Fabulous Men - a face wash range that simply has to be tried!
About M3K Beauty
M3K Beauty creates products that are 100% backed by its President - using only the best ingredients and formulated at one of the top manufacturers in the USA. Ten percent of all profits are donated to causes that help improve life for woman and children all over the world - starting at home in the USA.
M3K Beauty updates can be found on Facebook, Twitter.
Product can be found on their website
http://www.m3kbeauty.com
Contact Information
M3K Beauty LLC
Kim S Johnston
424-278-8324