MCDSTs. Upgrade to MCITP Enterprise Support Technician Certification with uCertify Practice Test for exam 70-621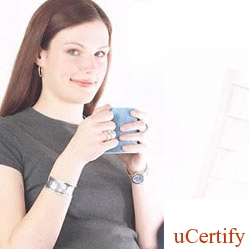 Union City, CA, July 20, 2007 --(
PR.com
)-- uCertify, a leading provider of Microsoft exam preparation software, has announced that the preparation kit for the MCDST to MCITP: Enterprise Support Technician exam 70-621 will be released on August 30, 2007. This MCITP exam is intended for MCDST professionals who want to upgrade their credentials to Windows Vista.
The MCDST to MCITP upgrade, 70-621 exam is designed for the professionals who work in the computing environments of medium sized organizations or enterprises that use Windows Vista. The exam validates their skills that include configuring, troubleshooting and managing the Windows Vista operating system.
The new uCertify practice test for MCDST to MCITP upgrade exam 70-621 provides an effective and practical approach to assure success in the exam. The PrepKit is developed according to the exam objectives with extensive research and innovations by the team of certified and experienced professionals at uCertify.
The 70-621 PrepKit is bundled with 4 full length realistic practice tests containing 280 challenging questions including interactive quizzes. Each question comes with explanations for correct as well as for incorrect answer options, which helps the users clarify their doubts. Users can also create customized tests based on topics difficult to them so that they can enhance their preparation and be confident for the actual exam.
The PrepKit also comprises 80 study notes for in-depth understanding of the topics covered. The technical articles, 'how tos', and tips will help the users master the complex technology.
The PrepKit comes with useful features such as reports and analysis tools, which enables users track their progress and help them take proper steps to improve their performance. A complete list of uCertify PrepKit features is available at: http://www.ucertify.com/about/features.html
The PrepKit 70-621 comes with 100% money back guarantee. Users can get their money back if they do not pass this exam in the first attempt. More information about the money back guarantee is available on the uCertify Website.
An evaluation version of the PrepKit is now available for download at: http://www.ucertify.com/exams/Microsoft/70-621.html
About uCertify
uCertify, a market leader in Microsoft certification exam preparation software, has been providing quality study material to candidates since 1996. uCertify develops exam PrepKits for Microsoft certification exams, such as MCSE, MCSD, MCAD, MCDBA, MCTS and MCDST. A panel of certified and experienced professionals prepares the uCertify certification exam preparation solutions after extensive study and research. For more information about uCertify visit http://www.ucertify.com
###
Contact
uCertify
Roger Stuart
1 415-513-1125
http://www.ucertify.com

Contact
Multimedia
uCertify PrepKit is an interactive software that helps you learn, tracks your progress, identifies areas for improvements and simulates the actual exam. Their PrepKits help you get certified. You save both, time and money. Each PrepKit comes with 100% money back guarantee.