Top-Rated Relationship Self-Help Book Named Award-Winning Finalist in USA Best Book Awards
Changing Behavior: Immediately Transform Your Relationships with Easy to Learn, Proven Communication Skills, by Dr. Georgianna Donadio, receives third book award for 2012.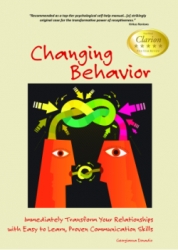 Wellesley, MA, December 05, 2012 --(
PR.com
)-- USA BookNews.com, the premier online magazine and review website for mainstream and independent publishing houses, announced the winners and finalists of The 2012 USA Best Book Awards on November 16, 2012.
Jeffrey Keen, President and CEO of USA Book News, said this year's contest yielded over 1500 entries from mainstream and independent publishers. Publishing houses with authors featured among the finalists include Harper Collins, Crown, St. Martin's Press, John Wiley & Sons, McGraw-Hill and others. Keen says of the awards, now in their tenth year, "The 2012 results represent a phenomenal mix of books from a wide array of publishers throughout the United States."
The award-winning finalist in the Relationships category of the USA Best Book Awards is Changing Behavior: Immediately Transform Your Relationships with Easy-to-Learn, Proven Communication Skills (SoulWork Press, 2011), the first-ever guide to provide simple, proven strategies to facilitate lasting change and to experience new levels of fulfillment, collaboration or intimacy. The book is also a 2012 Indie Book Award Winner, and has been awarded 5 STARS by ForeWord Clarion.
The information in Changing Behavior was developed and clinically researched for over 32 years by relationships expert, Georgianna Donadio, MSc, DC, PhD, in partnership with the National Institute of Whole Health (NIWH). Originally created for healthcare and medical professionals to improve their communication, behavior and relationships with their patients, now, these same skills are available for the first time to anyone who desires to improve their current relationships and enhance their overall health and happiness.
A sought-after relationships expert, Integrative Health Practitioner and bestselling author, Donadio's work and research has led to dramatic lifestyle changes for millions of people worldwide. She is the Director of the National Institute of Whole Health, a popular blogger for the Huffington Post, Dr. Mehmet Oz's Sharecare, DailyStrength and Easy Health Options blogs.
Her expertise has been showcased in hundreds of print, online, radio and TV interviews including on Oprah.com, WebMD, CNN News, TODAY/MSNBC, Fox News, Readers Digest, Night Beat with Barry Nolan, Self and Shape Magazines, to name a few. In addition, for 20 years, until recently retiring, she hosted a nationally syndicated cable TV show, Woman to Woman® which explored all topics of interest to women, with a special focus on relationships. Donadio is one of only six Florence Nightingale Scholars in the United States, and a tireless advocate for introducing whole person care options into the practice of medicine and healthcare. To download a free excerpt of Changing Behavior, visit http://www.changingbehavior.org
About Dr. Donadio and the National Institute of Whole Health
Since its inception in 1977, the National Institute of Whole Health has held a compelling vision for American health care. Today, 35 years later, under the direction of Dr. Georgianna Donadio, that vision is becoming a reality in mainstream medicine and health care with the inclusion of whole person health education, health and wellness advocacy and disease prevention.
For the past three and a half decades, with this vision as its guiding light, NIWH has developed, for qualified health, allied health and related professionals, continuing education and professional development programs. The programs are peer-reviewed by leading national associations, and have received the accreditation, approval or endorsement of more than a dozen of the leading health and related associations.
The NIWH recently published award winning, bestselling book "Changing Behavior" documents the development and research of Whole Health Education at various Boston hospitals that began in 1980. For more information, please visit www.wholehealtheducation.com. Media Contact: Maureen Landry, NIWH. 888-354-4325, e-mail: Maureen@niwh.org.
About USA Best Book Awards
USA Books News, sponsors of the USA Best Book Awards, enters its' 10th year in the publishing industry. USA Book News covers books from all sections of the publishing industry - mainstream, independent, and self-published, including e-books and audio books.
Located in the heart of Los Angeles, USA Book News has the unique advantage of gaining access to both the publishing and entertainment industries, like no other book award program currently operating. Now more than ever, publishers need to utilize all opportunities for media coverage. USA Book News will continue to feature quality books and aggressively promote those books to the publishing & entertainment industries, national media and the book buying public at large.
For more information visit www.usabooknews.com Media Contact: Jeffery Keen
usabooknews@earthlink.net
Contact
National Institute of Whole Health
Maureen Landry
888-354-4325
www.niwh.org

Contact