Transforming Lives...Body, Mind and Soul
Local social entrepreneur and owner of Elemental OM studios, Pamela Quinn, takes her transformational Elemental CleanseTM program to a national stage with the launch of her new book and e-course: The Elemental Cleanse – 28 Days to a Healthy Body, Calm Mind and Awakened Spirit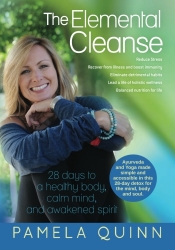 Cincinnati, OH, December 11, 2012 --(
PR.com
)-- "I want to help people make a healthy and healing shift every single day, as when I see them heal, it heals me too." This is the mantra of Pamela Quinn, owner of Elemental OM Studios and creator of the Elemental CleanseTM program designed to help people reclaim their health and live more happy and purpose-driven lives.
Built upon the foundations of ancient Ayurvedic principles, Quinn takes a holistic approach to helping people create a physical, emotional and spiritual path for balanced living. As a philosophy, Ayurveda recognizes the interconnectedness of the mind, body and soul and how these dynamically link to one's overall health and vitality. To achieve a joyful state of well being, it is important to support all of these aspects of ourselves and create a lifestyle that sustains and nurtures our unique nature, or in Ayurvedic terms what is defined as one's unique dosha.
The Elemental Cleanse program and book offer a practical guide to accomplishing this through the practice of yoga, meditation and wholesome nutrition tailored to your dosha type. Quinn says, "It is not some magic potion, it's about eliminating bad habits and empowering people to make more nourishing choices every day. As this happens, people naturally shift into a better place of being."
These shifts can be quite profound and powerful as evidenced in Quinn's own life. Ten years ago, Quinn began experiencing debilitating back pain which left her incapacitated. Unable to determine the root cause of her problem, she turned to pain killers and alcohol to make it through each day. About this time in her life Quinn shared, "I've never experienced such chronic pain or the deep dark depression that comes with it. It consumed me and destroyed everything in my life." Ironically, the turning point came when a reputable doctor told her that there was no hope and that she would simply have to live with the pain for the rest of her life. Even in her depressed state, something inside of her said that she should not give up.
Believing there had to be a better way she came home, emptied out the medicine chest and searched out holistic approaches. She began reading books on meditation and signed up for a 7 day retreat with the Deepak Chopra Center for Wellbeing. From that moment on she was hooked. This began a daily practice of meditation and a spiritual quest to learn more about the Ayurveda philosophy to promote self healing on all levels.
This also led her to make some tough, but necessary choices for her life. The first thing she did was to let go of an unhealthy marriage and start life anew as a single mother of two wonderful children. It also led her to a new career path, shifting gears from being a high-powered accountant to becoming a certified yoga teacher and Ayurvedic practioner. Seeing the positive changes in her own life, she was driven to share what she had learned and experienced to teach others. With this purpose in mind, Quinn opened up two Elemental OM studios, the first in Lebanon and then more recently in the heart of Montgomery.
In hearing the stories of her clients, she became aware of how many people struggled with persistent issues that prevented them from leading happy and fulfilled lives. For some it was childhood scars that held them hostage. For others it was a battle to lose weight and feel healthy. And then there were folks who just lost their sparkle and wanted to feel vibrant again. While the issues varied, the underlying need to nourish the mind, body and soul remained, which is what prompted Quinn to create the Elemental CleanseTM. Over the years, Quinn has touched the lives of hundreds of people. As one client shared, "Before I did the Elemental CleanseTM, I had some bad habits that I let just happen every day without even thinking about them much. I was very unhappy with myself as far as weight and drinking every day, and bad eating habits. This has helped ME make some very necessary changes that I thought I was not strong enough to do."
Seeing the potential and profound impact on people's lives, Quinn was inspired to create a book around the Elemental CleanseTM as well as an interactive E-Course to make it more widely accessible to the public. Her newly published book, The Elemental Cleanse – 28 Days to a Healthy Body, Calm Mind and Awakened Spirit is now available through Amazon for $12.95. The Elemental CleanseTM E-Course in which clients are guided through each step of the journey and offered personalized coaching and community support is available on the Elemental OM website at
www.elementalom.com
.
For more information, contact Pamela Quinn at 513.315.5042
Contact
Elemental OM
Pamela Quinn
513-315-5042
www.elementalom.com

Contact