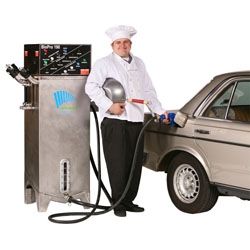 Chico, CA, December 12, 2012 --(
PR.com
)-- Springboard Biodiesel's BioPro™ EX meets the Green Restaurant Association's (GRA) rigorous endorsement standards for alternative fuel refueling stations. This safe and easy-to-use appliance automatically converts grease to biodiesel, which emits up to 90% less CO2 and 50% less particulate matter than regular diesel fuel, according to the California Air Resources Board. With devices such as the BioPro EX, it has never been easier for restaurants to convert their grease into a clean burning fuel for a fraction of the cost of the petroleum diesel it replaces.
By using the BioPro™ EX, restaurants can:
· Make ASTM-grade biodiesel for 95 cents/gallon
· Save costs on fuel
· Stay ahead of legislation
· Reduce CO2 and particulate emissions
Restaurants will earn 2.5 GreenPoints™ towards becoming a Certified Green Restaurant® based on the GRA's certification standards in the environmental category of eliminating waste. Further, the GRA requires Certified Green Restaurants® in the following locations to convert their grease to biodiesel or energy: Asheville NC, Baltimore, Boston, Chicago, southern and central Connecticut, Washington DC, Idaho, Los Angeles, New York City, Philadelphia, Portland OR, San Diego, San Francisco, Seattle, Spokane WA, and Wyoming.
Benefits of Converting Grease to Biodiesel
1. It can be made from any vegetable or animal oil
2. Biodiesel will run in any diesel engine without the need to convert your engine
3. Biodiesel is better for the life of your engines. It has a higher lubricity rate than regular diesel and therefore will create less wear in your engine
4. Biodiesel will mix, at any ratio, with diesel, so it can be blended and used in conjunction with diesel
5. Biodiesel made on domestic soil arguably reduces our collective dependence on foreign oil and conflict
6. BioPro EX equipment is made entirely in the USA
7. Converting a waste stream into a beneficent alternative fuel that runs in any diesel engine is a significant process improvement.
"Innovative technology such as the BioPro EX has made it possible for restaurants to recycle their grease in a simple, cost-efficient manner," says Michael Oshman, the Founder & CEO of the GRA. "While the average restaurant washes about 15 pounds of grease down the drain for every 150 meals served, restaurants that use the BioPro EX device help both the environment and their budgets."
"We're delighted by this endorsement," said Springboard Biodiesel's CEO Mark Roberts. "Making a clean burning fuel in an automated appliance and saving money at the same time is a truly great combination of benefits." He added, "The BioPro™ enables restaurant owners to both save money and differentiate themselves in the eyes of their customers, who are increasingly valuing green initiatives."
For interviews, contact Matt Roberts, matt@springboardbiodiesel.com
For details on the equipment, visit http://www.springboardbiodiesel.com/
For details on the GRA's Endorsement standards, visit http://dinegreen.com/manufacturers/mfg-standards.asp
About Springboard Biodiesel
Springboard Biodiesel is a biodiesel equipment manufacturer located in Chico, CA. They manufacture processors, dry-wash systems, glycerin demethylators, methanol purifiers, and other ancillary equipment used in the small-scale production of biodiesel from waste streams. Springboard may be best known for its BioPro™ line of biodiesel processors; these are automated machines that convert used cooking oils (any vegetable or animal oil) into premium grade biodiesel for 95 cents per gallon. 95 cents is the cost per gallon to make biodiesel in these machines, if an operator can collect their cooking oil for free.
About the Green Restaurant Association
The Green Restaurant Association (GRA) is the only official certifier of Green Restaurants® in the country. The national non-profit organization was founded in 1990 to shift the restaurant industry toward ecological sustainability. For 20 years, the GRA has pioneered the Green Restaurant® movement and currently works with over 850 restaurants throughout the U.S. and Canada. With a transparent and turnkey Certification system, the GRA has made it easy for thousands of restaurants to profit and become more environmentally sustainable. As the industry standard for Greening restaurants, the GRA has the world's largest database of environmental solutions for the foodservice industry. In 2009, the New York State Restaurant Association announced its official endorsement of the GRA, joining EPA Energy Star for Small Business, and several other national environmental groups. The GRA has been featured on CNN, NBC Nightly News, NPR, and in The New York Times, and The Washington Post. For more information visit www.dinegreen.com.
Media Contact: Matt Roberts
E. matt@springboardbiodiesel.com
P. 530-894-1793