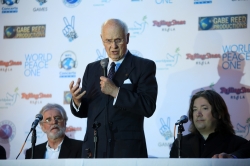 Hollywood, CA, December 23, 2012 --(
PR.com
)-- Gabe Reed Productions, Claes Nobel and World Peace One held a news conference at the Rolling Stone club in Hollywood on December 20, 2012 to announce a series of global concerts in 2013 as part of a 10 year global peace multi-media initiative. The press conference was streamed live to over 2 million viewers around the world.
Claes Nobel commented at the press conference that, "World Peace One is a 10 year Global Peace initiative whose aim is to organize and mobilize humanity through a series of methodical steps and efforts intended to inspire, compel and engage humanity's collective genius, to move forward into properly sequenced steps and stages that lead to true and lasting peace."
The conference, organized by Gabe Reed Productions and World Peace One, was attended by a panel of dignitaries, entertainment luminaries and humanitarians including:
• Claes Nobel, Senior member Nobel Family / Great Grand-Nephew Dr. Alfred Nobel, creator of the Nobel Prize
• Doug Ivanovich, Founder & Chairman WP1 Foundation, Live Aid, Farm Aid, VP of Skylink, Social Activist
• Paul Flattery, Producer Live 8, Live Earth & 9/11 Concert For New
York "world broadcasts" & Billboard Music Awards
• Dr. Hans Reinisch, CEO, WP1 Music and former Managing Director, EMI Europe/Capitol Records
• Chuck Peil, VP of Reel FX; Rise Of The Guardians /
Dreamworks, Looney Tunes / Warner Bros.
• Maestro J. Calandrelli, Composer, Producer, Arranger- Streisand,
Bocelli, T. Bennett, J. Groban, Celine, McCartney
• Gabe Reed, Concert Promoter, KISS, MötleyCrüe, Rock N Roll All
Stars w Gene Simmons & Guns N Roses, etc.
• Ray Charles Jr., Film Producer, Academy Award-Winning Movie "Ray," and Hotel California
• Carl Schleiter, World Stage Tickets, International Concert and Event Ticketing Specialist
• Steven-Elliot Altman, President WP1 Games, and former longtime Games Director at Acclaim Games
• Curtis Pickering, CEO, World Education University, Strategic WP1
Global Educational Alliance
• Reginald J. Comissiong Evans: Organizer, Television
Producer/Director, Promoter and Motivational Speaker
Also in attendance was Columbine High School Survivor Richard Castaldo.
You can view the archive of the Press Conference here: http://new.livestream.com/accounts/560524/events/1748250