Checkfront Integrates with Apple Passbook for Express Mobile Bookings
Checkfront Inc., a cloud-based Online Booking System has rolled out integration with Apple Passbook, offering an amazing end-to-end mobile experience for customers and merchants.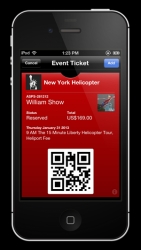 Seattle, WA, January 02, 2013 --(
PR.com
)-- Passbook is an application from Apple designed to store membership cards, tickets, coupons, and reservations -- much like a digital wallet. It's great for customers as they don't have to carry around hard copies of reservations, and the information is automatically updated on their phones.
"Adding support for
Apple Passbook
provides a great user experience for customers booking services online through Checkfront. It completes the circle for our mobile based initiatives which began earlier this year," says Jason Morehouse, Co-Founder & CTO. "Our native mobile apps released in September for the iOS and Android quickly became our most popular add-ons for our merchants. Combined with our new mobile booking interface for customers, Passbook ties the two together. A customer can make a reservation and store a digital version in their smart phone. When they arrive at their destination the booking automatically pops-up on their phone, ready for check-in. From there our merchants can instantly scan and validate the customer on-site, using no other hardware than a smartphone (and the Checkfront Mobile App) -- this is still science fiction to many in our industry."
The Apple Passbook integration is available on Checkfront as an add-on and works in conjunction with the QR scanner on the
Mobile Booking App
-- both are available freely to Checkfront customers.
"Mobile is a natural evolution to our business," says Grant Jurgeneit, Co-Founder & CEO, "Our customers often need access to their data on the go, and their own customers more than ever are researching and creating bookings away from their desktop. We firmly believe in offering a complete mobile solution. Native apps for merchants, streamlined mobile reservations for consumers, and a unified experience via Apple Passbook. Not to discount our other achievements this year, but this is a great way to close off the year!"
Checkfront also integrates into popular products including Wordpress, Stripe, Xero, Joomla, Authorize.net, Mailchimp Paypal and more.
As a fully managed solution, Checkfront includes automated updates, backups and industry leading security on a high speed, high availability network.
Checkfront offers a free 21 day trial. It operates on a Software-as-a-Service model and changes a subscription fee from $49 USD per month. It does not charge a transaction or commission fee on bookings.
http://www.checkfront.com/apple-passbook/
Contact
Checkfront Inc
Jason Morehouse
1 (800) 559-0985
www.checkfront.com

Contact