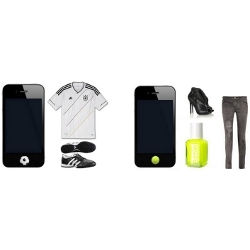 Southampton, NY, January 03, 2013 --(
PR.com
)-- iDecoz [pronounced i-deck-ohz] Home Button Sticker adds fun, function and style to the home button of your iPhone, iPad and iPod touch. One size fits all of your iDevices including your iPhone 5 and iPad mini. These stylish stickers will forever change your home button, and you can swap them with your mood, season and outfits, because unlike other home button stickers iDecoz are reusable. They leave no residue when removed and to refresh the stickiness you just wash the adhesive with soapy water, let air dry, and reuse over and over.
iDecoz Reusable Home Button Stickers are very popular with iDevice users who not only want to add some extra flair to their device and cases, but also those who prefer not to use cases and only want a touch of style and personalization. The
home button sticker
also provides more comfortable access to the concave home buttons on the iDevices. "Once you try iDecoz Reusable Home Button Stickers you'll never go back to the bare button, your home button will just look and feel awkward without them!" says President and co-founder Dawn Argila.
"iDecoz Reusable Home Button Stickers are an accessory you can change and swap just as easy as you change your cases. A lot of iDecoz' customers also have fun using the home button stickers to decorate and personalize their desktops, tablets and even their laptops. Since they're reusable, you can swap them with all of your devices and use them over and over as much as you'd like. There are hundreds of different styles available, including neon, sports, rhinestones, gemstones like turquoise and hematite, metallic gold, silver and rose gold, and even natural wood styles," says Dawn. "iDecoz are not just a sticker…they're like jewelry for your phone!"
iDecoz Reusable Home Button Stickers range from $1.99 to $3.99 and are available at www.iDecoz.com.