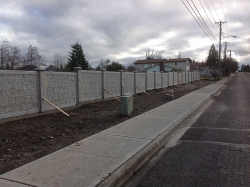 Tacoma, WA, February 02, 2013 --(
PR.com
)-- Rhinorock concrete fencing makes inroads in the the Northwest fencing market. DR Horton, America's largest homebuilder, recently installed a RhinoRock concrete fence at their La Terra subdivision in Tacoma, Washington. RhinoRock, a Utah based company, manufacturers a light weight concrete fence unique to their company that is more affordable than a traditional heavy concrete fence and because of its reduced weight can be shipped economically to other states such as Washington and Oregon.
DR Horton was originally going to use a standard masonry block wall, but due to the high cost of block fences in the Northwest, they saw RhinoRock as a much more economical option. Also, DR Horton has used Rhinorock on numerous Utah projects in the past. DR Horton's new subdivision, after build out will be turned over to an HOA, and so they wanted to provide a fence that would give decades of service without maintenance requirements to reduce costs for the future Home Owners Association. Wood fences in Washington and Oregon do not have a very long life cycle due to the large amount of rainfall.
HOA's and property managers are increasingly looking for other fencing options that perform better in the harsh environment of the Northwest, such as the RhinoRock concrete fence that doesn't rot or warp. For more information about a Rhinorock concrete fence visit www.rhinorock.com or call (801) 735-8877.