Tongue Cover Introduces a New Way to Take the Bitterness Out of Medicine
A revolutionary new product that shields the tongue from harsh flavors is on its way courtesy of crowd-funding.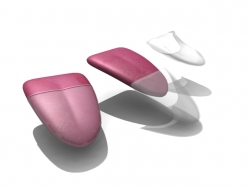 Dubai, United Arab Emirates, February 05, 2013 --(
PR.com
)-- Even in this modern world of smart phones, cars that park themselves, and nanotechnology, some things never seem to change. Liquid medicines or herbal solutions, for example, still taste bad, and avoiding their taste really hasn't progressed far beyond the "spoonful of sugar" method. That may not be the case anymore, thanks to Tongue Cover, the first product to solve the problem of bitter medicines not by masking or diluting them, but by blocking the taste altogether.
"This is going to forever change the way we take medicine," says Haris, the inventor, who spent a year planning and prototyping the Tongue Cover after completing MBA in International Business in Phoenix, AZ. The product acts as a latex protective barrier, forming a sheath over the tongue, thereby blocking and protecting the tongue from the bitter taste of liquid medicines, health drinks, herbal teas, vitamin solutions or pills. "Pharmaceutical companies have long focused on sugar-coating pills or diluting liquid medicines to make them more bearable," he says, "but I envision the Tongue Cover to be the standard with every bottle of medicine in a couple of years from now."
That vision has already found support in some scientific quarters. Former Advisor to WHO for Eastern Mediterranean Region, Dr. Mohammad Waseem-ul-Islam, is a believer. "What motivates me to support this product is the scope of its potential social impact," he says. "This could fundamentally change the way 7 billion people take medicine, and everybody falls sick at some point. This is not just a particular demographic segment of society we're talking about. This would be about everybody; this is for everybody."
Crowdfunding
The patent-pending product is now available for pre-order on Indiegogo, the international crowdfunding website. The site, similar to Kickstarter, is known to have funded some of the most creative and edgy inventions in the recent past. "I chose Indiegogo to raise funds over Kickstarter mainly because of its global audience appeal. And the Tongue Cover is truly a global product," Haris says.
As is the fast-growing trend these days, venture capitalists and angel investors were largely ignored. "I want to put this product directly in people's hands, be it patients, doctors or distributors, so they can try it for themselves while helping us grow, developing its commercial appeal and keeping costs low," he says. "We are ideally looking to raise $125,000 for our first production run to achieve true economies of scale."
Pre-orders range from $1 for a single Tongue Cover sample to large wholesale packages. For more information or to place a pre-order, go to http://www.indiegogo.com/Tongue-Cover
Contact
Tongue Cover
Haris Ayoubi
(623) 565 - 8473
tonguecover.com

Contact