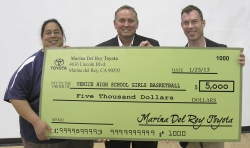 Marina del Rey, CA, February 05, 2013 --(
PR.com
)-- Through the Toyota Motor Sales Corporation's Dealer Match Program, Marina del Rey Toyota was able to donate a generous check of $5,000 for the Girls Basketball team at Venice High School. This program supports Toyota dealers' involvement in their community by matching donations made by dealers to local organizations in the communities which they serve. The check was presented on January 25, 2013, and was given to the head coach, Dominick Flores.
This is the 8th consecutive year that the Toyota dealership in Los Angeles was able to support Coach Flores and the team. Presenting the check to the coach was General Manager Kevin Ray and Vice President Jamie Bishton. Kevin Ray states, "As you continue to hear about more and more cut backs that are taking place with our schools, we at Marina Del Rey Toyota wanted to help our local schools with the most charitable donation possible. I think it's important to keep such activities in the schools. I truly find it a privilege to be able to help support such programs."
"It means so much to us that Marina del Rey Toyota has been able to support our Girls Basketball Team for the past 8 years," says Coach Flores. "Their donations have helped to offset the cost of uniforms and travel expenses to away games as well as to purchase equipment. Without their support, we'd be scrambling to find the funds to cover these costs. Marina del Rey Toyota is a true friend to us, and Venice High School."
Marina del Rey Toyota
is a firm believer in supporting their community and is proud to be able to continue to support the talents and efforts of the Venice High School Girls Basketball Team.