Weidlinger Associates Entry in 2012 New York Canstruction® Charity Event Sponsored by Goya Foods
"Room for One More," Weidlinger's table and chairs exhibit, was constructed entirely of Goya cans; all cans from the exhibition will be donated to City Harvest for distribution to local food banks.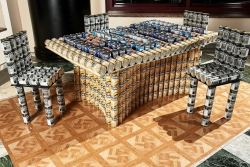 New York, NY, February 06, 2013 --(
PR.com
)-- Goya Foods, Inc., the largest Hispanic-owned food company in the United States, sponsored Weidlinger Associates, a global engineering firm, in the 2012 New York Canstruction competition, an annual charity event for which contestants design and build oversized structures entirely of canned food.
Competing structures are on view through Monday, February 11, at Lower Manhattan's Brookfield Place, One World Financial Center, New York City. At the close of the exhibition, all structures will be dismantled and the cans donated to City Harvest for distribution to New York City soup kitchens and food pantries.
Contest winners were announced at a February 4 gala at the Battery Gardens Restaurant in Battery Park. (The event, originally slated for November 2012, was postponed until February 2013 because of Hurricane Sandy.)
Weidlinger's entry, "Room for One More," is a rectangular dinner table surrounded by four chairs. The design was conceived by Graphic Artist Lorenzo Sanjuan and Senior Business Analyst Dom Ponsades as a way to highlight Canstruction's mission of feeding the hungry and the then-upcoming Thanksgiving holiday. The design supports Goya's recent collaboration with First Lady Michelle Obama and the USDA to promote MiPlato/MyPlate, a national health initiative to educate families about how to eat healthy.
"The table design is a simple, recognizable structure that makes efficient use of the permissible construction components and can easily be constructed in the time allotted," said Senior Engineer Colleen Kirk, captain of Weidlinger's 17-member team of Canstruction volunteers. "It was chosen from among 40 ideas that were considered; the team felt it would underscore the importance of sharing family meals around the dinner table during the holiday season." The exhibit also matches Goya's core "family values."
To ensure that the plywood tabletop support would be able to hold the required number of cans, team members performed a structural analysis using estimates of their sizes and weights. "The most difficult part of the design was choosing a final table configuration," said Edith Jurado, who supervised the Canstruction build-out team. "Initially the concept used four posts; however, based on our analysis, we became concerned with the deflections and strength of the ¼-inch-thick, 5'9" by 3'8" support. We finally decided on a curved-platform base, with the table cantilevering one foot from the edges to preserve the illusion of a table with chairs underneath."
To assist the team in choosing cans of the appropriate sizes, label colors, and contents, Goya provided access to a comprehensive database of its products. The completed structure is eight feet long, six feet wide, and three feet tall and comprises approximately 1,400 Goya canned products, including black beans, olives, fruit salad, carrots, coconut milk, and chickpeas. An assortment of cans on the tabletop is arranged to spell "GOYA"; message points about Goya's MiPlato/MyPlate campaign were integrated into the descriptive text displayed near the structure.
Goya Foods provides canned products at a discount to any organization participating in the event. Although Goya cans were used prominently in one other Weidlinger Canstruction project (2002's "The Tugboat that CAN"), the 2012 contest marks the first time the company has sponsored a Weidlinger structure. As a sponsored team, Weidlinger received all cans for the competition free of charge, provided the firm's entry was constructed solely of Goya products.
Canstruction contest rules require that all projects be structurally self-supporting. Foam-core, cardboard, Masonite, plywood, or Plexiglas® sheets no more than a quarter-inch thick may be used for leveling or balancing materials, but not for load bearing. Temporary adhesives, rubber bands, nylon string, and wire are also permitted. Cans must be full and unopened, with labels intact and legible, and the structure must be erected in one evening by a team of no more than five members.
Weidlinger began participating in the Canstruction program in 2002 and returned to the competition in 2012 after a two-year hiatus. The firm's 2004 "Sewer Gator" entry received a People's Choice Award as the second favorite of nearly 3,000 visitors to the New York Design Center display. Other Weidlinger designs were a red "hotline" telephone in 2003; King Kong atop the Empire State Building in 2005; a whale tail in 2006; an Easter Island moai statue in 2007; and a red, white, and blue hot-air balloon in 2008.
Canstruction was founded in 1992 by the Society for Design Administration (SDA). The organization has collected millions of pounds of food for programs around the world and is one of the world's largest campaigns for donations to food banks. Canstruction awards are presented in five categories—one for Best Meal, one for Best Use of Labels, one for Structural Ingenuity, one for Jurors' Favorite, and two for Honorable Mention. The public is invited to bring canned foods for donation to City Harvest when viewing the exhibition.
About Goya: Founded in 1936, Goya Foods, Inc., is America's largest Hispanic-owned food company, and has established itself as the leader in Latin American food and condiments. Goya manufactures packages and distributes over 2,200 high-quality food products from the Caribbean, Mexico, Central and South America. Goya products have their roots in the culinary traditions of Hispanic communities around the world; their combination of authentic ingredients, robust seasonings and convenient preparation make them ideal for every taste and every table. For more information on Goya Foods, please visit www.goya.com.
Weidlinger Associates, Inc., is a 300-person structural engineering firm that designs and rehabilitates buildings, bridges, and infrastructure and provides special services in applied science, forensics, and physical security. The firm, which celebrated its 60th year in 2009, is recognized worldwide for its innovative and practical design solutions and for its long-term commitment to advancing the state of the art in engineering. Headquartered in New York City, the firm has branch offices in the United States and the United Kingdom. For more information, please see www.wai.com.
Photo: Canstruction New York and Kevin Wick Photography
Contact
Weidlinger Associates, Inc.
Lynn Trono, LAK Public Relations
212-575-4545
www.weidlinger.com

Contact