TFI Envision Wins Best Customizable Campaign Award in the Automotive Aftermarket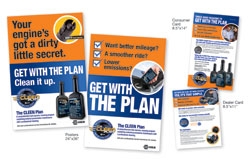 Long Island City, NY, February 13, 2013 --(
PR.com
)-- Standard Motor Products, Inc., a leading independent manufacturer, distributor and marketer of replacement parts for motor vehicles in the automotive aftermarket industry, with an increasing focus on the original equipment and original equipment service markets, selected TFI Envision, Inc. to develop a new consumer/dealer campaign for their CLEEN branded NAPA® Echlin® products.
The CLEEN Plan is a comprehensive fuel injection cleaning program that combines motorist preventative maintenance with a regular professional cleaning. The CLEEN Plan program includes a complete fuel injection cleaning system, the finest cleaning chemicals, and a complete in-shop merchandising program.
The Objective: To drive consumer awareness of the CLEEN Plan.
The Strategy: To focus on the issues created by not cleaning your fuel system.
The Consumer Insight: Consumers have little to no understanding of fuel injector cleaning.
The Solution: TFI Envision created the campaign "Get with the Plan" to reach both consumers and technicians. Consumers learn in a provocative way, the importance of fuel injector maintenance. Technicians are provided with information and tools to help their customers spend less at the pump, enjoy better engine performance and cut their emissions.
Activation elements: "Get with the Plan" was delivered through in-store POS, and detailed consumer and technician sell sheets outlining the value to their customers and the revenue opportunities delivered through "up-selling" the program.
Results: The Car Care Council Women's Board (WB) and the Automotive Communication Council (ACC) selected TFI Envision, Inc. as the 2012 winner of the Automotive Communications Award in the category of Best Customizable Campaign for the work done for the Cleen Plan Brand Marketing Kit for NAPA® Echlin® materials, and presented the award to TFI Envision at the 2012 AAPEX Show at the Sands Expo Center, Las Vegas on October 30, 2012.
Since 1975, TFI Envision, Inc. of Norwalk, CT, has specialized in developing strategic design and marketing solutions for branding, packaging, promotion, digital and corporate communications; helping organizations achieve their marketing and communication goals with compelling, consistent messaging that is on brand and on target.
Contact
TFI Envision, Inc.
Elizabeth P. Ball
203-845-0700
www.tfienvision.com
203-919-6545

Contact