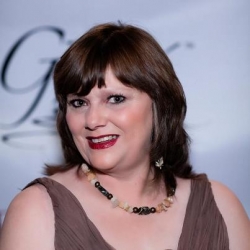 Sarepta, LA, February 15, 2013 --(
PR.com
)-- Renee's "Uniquely Designed Jewelry" caught the eye of all, opening many new doors with the opportunity to be showcased on display for several fashion designers. Robert Powell, Designer of Wolfen Wear, Houston, Tx., (www.wolfonwear.com), has confirmed his invitation to have Uniquely Designed Jewelry featured synonymous with his fashion line. At least 1 other designers has also confirmed the desire to work in collaboration with Uniquely Designed for future runway shows.
Uniquely Designed is excited to announce it's participation in GBK Productions for the White House Correspondence Dinner, April 26th, 2013, in Washington, DC, where she will be gifting the First Lady with a special necklace set, so she can become "Uniquely Designed." Other scheduled engagements consist of the Cannes Film Festival, May 17-20, in Cannes, France and New York City's upcoming Fashion week Sept. 5-12, 2013, with GBK Productions & "HOPE (www.beatlivertumors.org), a Cancer awareness charity. Scheduling is being prepared to participate in Plitzs Fashion Week again Feb. 2014, with the possibility of a swimsuit & children's Fashion Week this summer.
Uniquely Designed Jewelry was also a sponsor of GBK's Gift Lounge for the Golden Globes Jan. 11-12th, 2012 at the L'Ermitage Hotel in Beverly Hills, Ca. As LA Splash Magazine's Editor-In-Chief, Lawrence Davis stated in his comments, "Uniquely Designed Jewelry lived up to its name with a table full of jewelry that looked not only 'One of a Kind,' but also as beautiful as anything you could put around your neck."
Renee Howard, a native of Louisiana, raised in the small town of Sarepta, has been a Registered Nurse since 1980, and a self taught jewelry designer of "Eye-Catching" bold & beautiful handmade necklace sets, since November 2009. She acknowledges giving the same Love and "Special" care in jewelry designing that she has devoted her life to in nursing, ensuring each quality piece has characteristics of beauty, uniqueness of design, craftsmanship, and fashion.
Through inspiration of imagination, beauty and contrast come together, exploding into each Uniquely Designed necklace. Using a combination and variety of Gemstones, Swarovski Crystals, or Fresh Water Pearls with other mediums which "pop" with color, Renee creates each "One of a Kind" necklace set, naming them according to what inspired their creation. As advised in New York City, to ensure you have an Original "Uniquely Designed" creation, look for Renee's certificate of authenticity and signature tag. Without these, you may be purchasing a copy. Feel free to contact Renee, whenever in question.
Contact Uniquely Designed to request a particular design to coordinate your wedding party or fashion style. Renee will be glad to make something....Just For You! Discounts are available for multiple purchases of similar items, while keeping each set "One of a Kind."
For more information on Uniquely Designed Jewelry, visit: www.1uniquejewelry.com: (jewelry shop tab/top right), or follow Renee @ facebook.com/uniquely designed hand crafted jewelry or on Twitter @# 1uniquejewelry.com.