CSU Institute for Palliative Care Launches First Course Offerings
Institute offers 2013 calendar of palliative care training programs for nurses, social workers, chaplains and other health care professionals.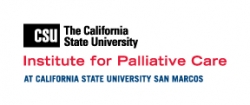 San Marcos, CA, February 15, 2013 --(
PR.com
)-- The new California State University Institute for Palliative Care at CSU San Marcos has announced its first slate of specialist certificates, educational programs and conferences. These include online and classroom courses for chaplains, nurses, social workers and other palliative care and health care professionals.
"We have developed a vital mix of courses designed to enhance the palliative care skills of today's health care professionals. We are confident that these offerings create a strong foundation for addressing the critical shortage of nursing, social work, spiritual and other professionals trained in palliative care skills," said Institute Executive Director Helen McNeal. "In addition, we are launching an interprofessional conference later this fall to bring all of these professions together to advance the team-based approach that is at the core of palliative care and needed for the health care system of the future."
The Institute's 2013 course offerings for health care professionals include:
· Specialty Palliative Care Chaplaincy Certificate Program for chaplains and others interested in spiritual care (Cohort 1- March start)
The Institute has joined forces with HealthCare Chaplaincy to meet the growing need to train chaplains and other spiritual care providers in hospitals, hospices, long-term care facilities and elsewhere on spiritual care in the palliative care context.
· End of Life Nursing Education Curriculum (ELNEC) Veterans Course (April 1-2)
ELNEC for Veterans addresses the unique palliative care needs of veterans and guides nurses in orchestrating their care in any setting.
· Building Bridges, Building Connections (May 6)
A powerful day of exploring cultural sensitivity through attendance at the California Coalition for Compassionate Care's Building Bridges workshop, and having the opportunity to dialogue about palliative care with representatives of California's diverse communities.
· Hospice and Palliative Care RN Certification Examination Preparation Course (May 4 and 5)
Together with the San Diego Chapter of the Hospice and Palliative Nursing Association (HPNA), the Institute is proud to offer a review course for the Certified Hospice and Palliative Nurse (CHPN) exam.
· Post-MSW Palliative Care Certificate Program for Social Workers (Cohort 1- June start)
The first and only certificate program designed specifically for palliative care social work, the program is largely online after an initial two-day "boot camp" intensive and provides social workers with the knowledge and skills to be successful working in a palliative care, interprofessional team environment whether that is in a hospital, hospice or other setting.
· Palliative Care Fellowship for Nurse Practitioners (Cohort 1 – July start)
This 10-month fellowship in palliative care reflects a unique partnership between the Institute, the CSUSM School of Nursing, and employers in the community.
· Post-Masters in Nursing Palliative Care Certificate Program (Cohort 1 – August start)
This Certificate program will give advanced practice nurses the specialized education and clinical experiences designed to increase their confidence and competence in the principles and practice of palliative care.
· Advancing Clinical Practice InterProfessional Conference (Fall)
This will be an exciting, multi-layered event geared to all professionals who seek to hone their own skills at working interprofessionally, to learn the skills of leading in this environment and to explore the latest in best practices in interprofessional teamwork.
For course details or to register, please visit
www.csupalliativecare.org/professionals
.
About the CSU Institute for Palliative Care
The CSU Institute for Palliative Care is America's first statewide educational and workforce development initiative dedicated to palliative care. The Institute offers professional development and continuing education courses designed to enhance the skills of current and future health care professionals, as well as programs to build palliative care awareness in the community. Courses offered initially at the Cal State San Marcos campus will be part of a model for palliative care workforce development and community awareness that will be available to other interested campuses in California and beyond. To learn more about the CSU Institute for Palliative Care, visit www.csupalliativecare.org.
Contact
(W)right On Communications
Julie Wright
858-755-5411
http://www.wrightoncomm.com/

Contact