The Grapeseed Company on Display at the 2013 Academy Awards Gift Lounge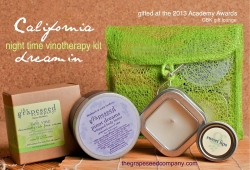 Santa Barbara, CA, February 20, 2013 --(
PR.com
)-- Pleased to announce The Grapeseed Company, in association with The Aritsan Group, will participate in a luxury celebrity gift lounge hosted by GBK Productions on February 22-23, 2013 at an exclusive location in Beverly Hills, California, in honor of the The 2013 Academy Awards Nominees and Presenters.
The Grapeseed Company's California Dreamin' Night Time Vinotherapy Kit will be prominently featured on display at The Artisan Group's exhibit, and all attending celebrities will receive it in their swag bags. This event will also be attended by nearly fifty media outlets. "We are thrilled to be in the company of such talented artisans, and with the opportunity to share a fabulous selection of our products with Oscars Nominees, Presenters and Press," commented Kristin Fraser Cotte, CEO at The Grapeseed Company.
To learn more about The Grapeseed Company or our participation in this exclusive event, visit thegrapeseedcompany.com, email pr@thegrapeseedcompany.com, call (805)456-3655 or visit our stores in Santa Barbara and Carpinteria, California. For press inquiries regarding The Artisan Group, please visit theartisangroup.org
About The Grapeseed Company:
Since 2004, The Grapeseed Company has created premium vinotherapy skin care from the byproduct of wine in Santa Barbara, California. The innovative product line offers a natural solution to anti~aging skin care utilizing the potent ingredient vintners discard after harvest. The Grapeseed Company has been featured in The Wall Street Journal, Health Magazine, The LA Times, Women's Health, GCI and is used in treatments at some of the top spas around the world. The Grapeseed Company operates two stores in California, where they create botanical beauty from wine, made fresh daily.
Contact
The Grapeseed Company
Kristin Fraser Cotte
805-456-3655
thegrapeseedcompany.com

Contact