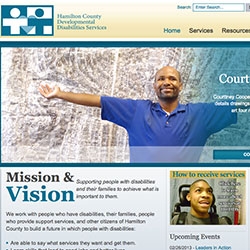 Cincinnati, OH, February 23, 2013 --(
PR.com
)-- Pixels & Dots, LLC is recognized by the Ohio Public Images Network as an organization who made an exceptional effort to promote awareness and acceptance of individuals with disabilities. Pixels & Dots, LLC will be presented with an OPI Award at the Annual Awards Luncheon in Dublin-Columbus on March 11th of this year. This recognition is for the company's outstanding design and development of the Hamilton County Developmental Disabilities Services web site, launched November of 2012. The site promotes services and resources offered to those with disabilities, their families, and the community, in order to foster a safe, healthy, and happy future for those with disabilities.
Pixels & Dots, LLC is a proud and grateful recipient of the OPI Award.
Notes to Editors: About Pixels & Dots, LLC
Pixels & Dots, LLC is a 12 year, certified woman owned design agency located in the Mount Lookout neighborhood of Cincinnati, OH. The agency helps clients to successfully compete in an evolving marketing and advertising landscape by achieving measurable results. Their passion for creativity and quality allows them to provide innovative solutions for organizations who expect the best. Clients of Pixels & Dots, LLC include: Procter & Gamble, Hamilton County, Perfetti van Melle, Xavier University, and Pure Romance. To learn more, please visit www.pixelsanddots.com.