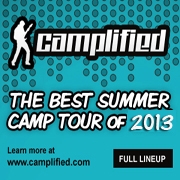 New York, NY, March 03, 2013 --(
PR.com
)-- Opportunities for developing artists to perform at 60+ summer camps across America.
Entering its 12th season, the 2013 Camplified Tour is searching for more talent to rock 60,000+ kids in 60+ summer camps across the United States and for its first-ever stops in Canada, Camplified is the definitive VIP concert experience for teens and tweens, creating a unique and exclusive one-day music festival environment at every stop.
In a music industry constantly trying to find creative ways to market new artists, Camplified is a one-of-a-kind tour that fills 135 performance slots and gives emerging artists an unbelievable, cost-effective platform to directly connect with their target audiences, while further developing themselves into true rock stars.
Embraced by Billboard as "Lollapalooza for the Justin Bieber-loving crowd" and declared "a highly anticipated event" by the New York Times Camplified (www.Camplified.com) brings over 25 talented and emerging artists to campers aged 6-17, many of whom will be experiencing their first-ever rock concert.
Camplified creates a daylong interactive fantasy experience where every camper receives an "All-Access Pass" to the festival and kicks off with artists joining campers for full day of sponsor-branded activities before the "The Big Show," a 90-minute concert at night. The festival experience culminates in post-concert "meet-n-greets," complete with up-close-and-personal autograph and picture taking sessions with artists.
Artist/Band submissions for review will be accepted at: http://camplified.com/Main/Submissions.
Previous artists include Trevor Jackson (Atlantic Records), co-star of the new #1 Disney Channel movie, Let It Shine, teen pop superstar, Cody Simpson (Atlantic Records), 2AM Club (RCA Records), Savvy (Cash Money Records), Wellington (Youtube pop/rock sensations), Lucy Woodward (Verve/Universal), and As Jonas Sees in Color (Glassnote Records). As an interactive music event, Camplified creates a lifelong bond between artists and fans through personal connection, and prides itself on featuring artists on the cusp of stardom.
Camplified (www.Camplified.com), developed by Aimee Berger and powered by Primary Wave Music (www.PrimaryWaveMusic.com) - one of the largest music publishing, marketing and talent management companies in the US - is a summer concert tour unlike any other.
Press contact
Samantha Schroeder | Primary Wave Music | camplified@gmail.com | 212.584.8066
Other inquiries
Aimee Berger | Primary Wave Music | aberger@primarywavemusic.com | 212.584.8066
For More Timely Camplified Updates:
"Like" Camplified on Facebook: @Camplified
"Follow" Camplified on Twitter: @Camplified