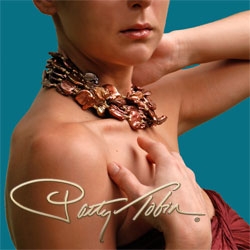 New York, NY, March 04, 2013 --(
PR.com
)-- Bloomingdale's will feature jewelry designer, Patty Tobin, for 12 trunk show events at four different store locations in New York and New Jersey starting in March. Patty Tobin will kickoff her showcase at Bloomingdale's annual "HOT" event on March 14, 15, 16 at the 59th Street flagship store in New York City. Patty Tobin is proud to be recognized by Bloomingdale's for her Made In New York jewelry line, which will be featured at the White Plains, NY, Short Hills, NJ and Hackensack, NJ locations in addition to New York City.
Patty Tobin has built her brand on a central innovative concept: Bridging the gap between traditional "fine" and "fashion" jewelry. Described as "wearable art" by many of her customers, Patty Tobin creates all of her original designs using semiprecious gemstones and a variety of real freshwater and south sea pearls and precious metals. A born and bread upstate New Yorker, Patty Tobin is committed to keeping the manufacturing of her jewelry not just in the U.S., but right here in her home state of New York.
In the world of jewelry, there is simply no one doing what Patty Tobin does: Creating beautiful, handcrafted, Made In New York jewelry that has the look and quality of high-end, but at price-points that are affordable for a range of budgets. This winning combination of price, quality and creative design has earned Patty Tobin the reputation of "Affordable Luxury" among the many professional, social women who love to wear her.
Patty Tobin pairs classic elegance with a fashion-forward look that is both fun and sophisticated. Her eye-catching pieces range in styles from the big one-of-a-kind statement necklaces that she is best known for, to delicate gemstone chains and little pearl earrings, to her popular stackable hematite bracelets that can double as a necklace. Loved for its versatility as well as its price, Patty Tobin jewelry is known for attracting attention. Women love the unsolicited compliments they receive time and time again whenever they're wearing a Patty Tobin piece.
All items will be for sale at these events. Event dates, times, and locations are provided below. Additional information is available on the events page at
PattyTobin.com
.
Bloomingdale's 59th Street (1000 Third Avenue, New York, NY)
March 14, 15, 16, 21, 22, 23 10:00AM – 6:00PM
April 25, 26, 27 10:00AM – 6:00PM
May 8, 9, 10 10:00AM – 6:00PM
June 20, 21, 22, 23 10:00AM – 6:00PM
Bloomingdale's White Plains (175 Bloomingdale Road, White Plains, NY)
April 6 10:00AM – 6:00PM
April 28 11:00AM – 6:00PM
May 11 10:00AM – 6:00PM
Bloomingdale's Short Hills (1200 Morris Turnpike, Short Hills, NJ)
March 17 11:00AM – 6:00PM
March 24 11:00AM – 6:00PM
Bloomingdale's The Shops at Riverside (90 Hackensack Ave, Hackensack, NJ)
April 3, 4, 5 10:00AM – 6:00PM
June 6, 7, 8 10:00AM – 6:00PM
About Patty Tobin
A seasoned businesswoman who ran her own marketing firm for more than 25 years, Patty Tobin first started designing jewelry as a way of combining her love for art and fashion. It wasn't long before her savvy business sense took hold and honed in on a market of like-minded consumers who started noticing – and loving – the necklaces she was making for herself. Since 2006, Patty Tobin has built her business up from private trunk shows to specialty boutiques in upstate New York to the grand opening of her New York City flagship store on the inaugural Fashion's Night Out in September 2009. Today her jewelry line is currently carried in specialty boutiques in New York, New Jersey, Connecticut and Florida. More information about Patty Tobin is available on our website.
About Bloomingdale's
Bloomingdale's is America's only nationwide, full-line, upscale department store and a division of Macy's, Inc. It was founded in 1872 and currently operates 37 Bloomingdale's stores and 13 Bloomingdale's, The Outlet Stores, in New York, New Jersey, Massachusetts, Pennsylvania, Maryland, Virginia, Illinois, Georgia, Florida, New Hampshire, California, and Texas. In addition, Bloomingdale's has an international presence with a location in Dubai.
Patty Tobin Fine Fashion Jewelry Boutique
108 West 17th Street
New York, NY 10011
212.414.0174
Contact Info:
Teal Rahmati
teal@pattytobin.com
212.414.0174
917.362.0704