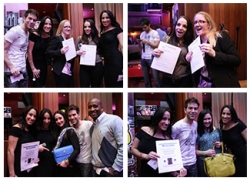 New York, NY, March 07, 2013 --(
PR.com
)-- YesWalker.com, a newly launched online retailer of women's contemporary shoes and bags, served as a sponsor of the Handbag Happy Hour held February 7 at Hudson Terrace in New York City. Proceeds from the affair will go to St. Mary's Healthcare System for Children, a not-for-profit healthcare organization that serves over 4,000 children with special needs in the metropolitan New York area.
The Handbag Happy Hour marked an evening of casual fun and drinks for ladies who love handbags. Throughout the night, different prizes were raffled off, leading up to a high-end designer bag given away to one lucky attendee. The raffle also included YesWalker.com gift cards.
Radio personality Ty Bentli voiced his enthusiasm, stating, "We get to give away some of the biggest designer label items every 15 minutes at the Handbag Happy Hour! We're glad to have several sponsors onboard including YesWalker.com."
About YesWalker.com
YesWalker.com is an online fashion retailer dedicated to bringing quality shoes and bags to customers worldwide. Using YesWalker.com's reliable and intuitive e-commerce platform, customers can efficiently browse and purchase shoes, boots, flats, heels, sandals, sneakers, totes, shoulder bags, clutches and more, with new items added to the site monthly. Orders are shipped via YesWalker.com's proven logistics network, aided by an experienced customer service team. YesWalker.com is owned and operated by YesStyle.com Limited, the world's largest online Asian fashion retailer and a wholly owned subsidiary of Hong Kong-based company YesAsia Holdings Limited.