SMART Prospecting That Works Every Time - Release Date Set; Sales Professionals Win More Clients with Fewer Cold Calls
SMART Prospecting blends proven, classic sales techniques with the latest technology and mobile apps to help sales professionals in any industry, business owners and entrepreneurs find prospects more quickly, understand them more fully and make the sale more efficiently so that they make more money.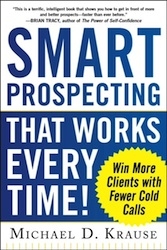 Rochester, NY, March 07, 2013 --(
PR.com
)-- Michael D. Krause, author of SMART Prospecting That Works Every Time (McGraw Hill), announces March 8, 2013 as the release date of his latest book. The book is available for pre-order now and will be available from
Amazon.com
on March 8th.
In the title of the book, SMART is an acronym for Solutions Measure Attitude Resilience Trusted advisor. Krause fully explains his proven SMART process in the book along with providing pertinent questions and forms to assist experienced and novice sales professionals work more effectively.
Krause advocates putting the phone down to get more face time and higher close rates than ever. Smart Prospecting That Works Every Time! is a step-by-step guide to reaching potential customers where they want to be met, without wasting time on fruitless cold calls. This proven method balances social media marketing strategies, online applications, and traditional appointment setting techniques to help every salesperson connect with more clients and close more sales.
About Michael D. Krause, Chief Sales Architect
Having sold well over $100 million in products and services, Mike Krause knows the challenges sales leaders, entrepreneurs and business professionals face every day. He has spent more than twenty years in professional sales, consistently achieving high levels of success in sales, management and training. He is a seasoned veteran of driving and achieving quantifiable results across a wide array of business models and organization sizes.
Today, Mike Krause is an author, speaker and strategist as well as the president and founder of
www.salessensesolutions.com
(www.SalesSenseSolutions.com). His company helps clients create measurable results using Fortune 500 strategies, tactics, and tools. The company customizes and scales large corporation sales processes and success systems to the needs of entrepreneurs, mid-sized and smaller companies.
For more information, please visit
www.smart-prospecting.com
and
www.MDKrause.com
.
SMART Prospecting is Krause's second book, following the successful Sell or Sink: Strategies, Tactics and Tools Every Business Leader Should Learn to Stay Afloat! published in 2011, also available on Amazon.com.
Contact
Sales Sense Solutions, Inc.
Cheryl Freer
585-737-9765
www.SalesSenseSolutions.com
mike@salessensesolutions.com, www.mdkrause.com

Contact