Weidlinger Receives ACEC New York Engineering Excellence Award
The FBI Portland Field Office Complex takes multihazard design to the next level.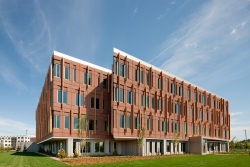 New York, NY, March 09, 2013 --(
PR.com
)-- The American Council of Engineering Companies (ACEC) of New York has selected Weidlinger Associates®, Inc., to receive an Engineering Excellence Gold Award for the FBI Field Office Complex in Portland, Oregon. The award will be presented at the organization's annual gala in New York City on April 6, 2013, in the Grand Ballroom of the Waldorf-Astoria hotel. Weidlinger provided structural, seismic, and blast-engineering services for the project.
Constructed in one of America's highest seismic regions, FBI Portland incorporates cutting-edge technologies to ensure unsurpassed multihazard protection. The complex, designed by HGA Architects and developed by the Molasky Group of Companies, serves as the FBI's Oregon headquarters.
"Weidlinger has collaborated with Molasky and the FBI on a number of complexes throughout the country, each with its own site-specific challenges," said Weidlinger Principal Peter DiMaggio. "For FBI Portland, the challenge was to design an attractive campus, with buildings of various construction types, while meeting an extremely aggressive schedule and satisfying stringent, often-conflicting blast and seismic requirements. The office building, for instance, is aesthetically appealing, yet strong enough to function as a blast shelter."
Located a short distance from the airport and easily accessible from the freeway, the $65-million complex was among the largest Portland-area projects undertaken during the recession, employing more than 1,000 artisans during the course of construction. It is currently home to more than 200 full-time jobs. Proceeds from the sale of land rights to the site were used to support local economic development programs. The project was recently certified LEED® Gold, surpassing the FBI's requirement of LEED Silver certification.
FBI Portland comprises a four-story office building, a one-story annex, a 223-car post-tensioned-concrete parking structure, and a small visitor screening facility, bounded entirely by a state-of-the-art anti-ram fence. Along with its terra-cotta-hued facades and meticulously landscaped courtyard, the picturesque 142,604-square-foot suburban campus features a covered walkway, a miniature waterfall, a garden, and even a basketball court.
The project was recognized by the ACEC in part for combining the most advanced national guidelines for multihazard protection with leading-edge seismic-design strategies that are more prevalently used on the West Coast, where frames must support greater loads and resist swaying during seismic events. The 135,000-square-foot office building, a chevron-shaped structure with precast punched-window panels, houses the primary FBI offices. It features a dual seismic system that is more commonly used in taller buildings, consisting of buckling restrained braced frames, which absorb 75 to 90 percent of the structure's seismic load, and special moment frames, whose reduced beam sections help minimize seismic demand on the columns. Laminated box windows used throughout the building are designed so that, if the glass fails, it will remain in the frame and not become a hazard to occupants.
The 24,000-square-foot annex serves primarily as a maintenance garage. Its entire perimeter was created using "tilt-up" construction, wherein concrete walls are poured onto a concrete slab and then "tilted up" into place after they cure. While concrete shear walls are intrinsically resistant to seismic forces, Weidlinger designed them to be heavier and thicker to simultaneously meet combined blast, seismic, bearing, and progressive-collapse specifications. The structure's steel-joist roof was designed to be light and flexible to satisfy both seismic and blast-resistance criteria.
To overcome poor soils throughout the site, Weidlinger specified driven grout piles, a proprietary deep-foundation system capable of supporting loads greater than 100 tons.
The ACEC New York is the leading advocate in New York State for consulting engineers. The ACEC Engineering Excellence Award Program celebrates engineering achievements that demonstrate ingenuity and significant technical, economic, and social advancement. Entries are judged on five criteria: original or innovative application of new and existing techniques; future value to the engineering profession; social, economic, and sustainable design considerations; complexity; and exceeding client needs. For more information, visit http://www.acecny.org.
Weidlinger Associates, Inc., is a 300-person structural engineering firm that designs and rehabilitates buildings, bridges, and infrastructure and provides special services in applied science, forensics, and physical security. For more than 60 years, the firm has been recognized worldwide for its innovative and practical design solutions and for its long-term commitment to advancing the state of the art in engineering. Headquartered in New York City, the firm has branch offices in the United States and the United Kingdom. For more information, please see www.wai.com.
Photo: FBI Portland © Lara Swimmer Photography
Contact
Weidlinger Associates, Inc.
Lynn Trono, LAK Public Relations, Inc.
212-575-4545
www.weidlinger.com
ltrono@lakpr.com

Contact