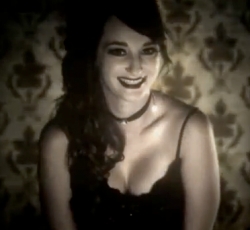 Los Angeles, CA, March 13, 2013 --(
PR.com
)-- The official teaser video for the 10-episode webseries PROGRESS was released in November 2012 and has been garnering much attention through blogs, magazines, podcasts, Twitter and Facebook. PROGRESS just launched an Indiegogo campaign to help raise funds for production on the whole series.
In this high-stakes, edge-of-your-seat thriller, 19th Century England has a steam-powered Internet and Jack the Ripper is posting files of his crimes on the Victorian version of WikiLeaks. Oscar Lerwill, the best hacker of the Empire, plays a dangerous game of cat-and-mouse with the killer under the eyes of a hypocrite and repressive monarchy bent on censoring the web.
Ben Whalen (of "To Be King" fame) plays hacker Oscar Lerwill while Rebecca Lynch (from "Game Night") plays cam-harlot and Oscar's love interest Lila De Clide. Derek Houck (from "Napoleon Bon Appétit") plays Adam Rhett, a rival hacker and owner of the rogue website WikiPunkProgress.com.
Recently attached to the series is British comedic actor, Andy Pandini ("Harold's Going Stiff" and "Baby Geniuses and the Mystery of the Crown Jewels") and also character actor Kai Cofer ("Night of the Templar" and "Anneliese: The Exorcist Tapes"). Pandini plays Mr. Hummbaugh, the Victorian talk-radio political pundit with enough rhetoric to start a riot. Cofer plays Mr. Alben Scot, a Scotland Yard constable that seems right out of a Monty Python sketch. The series is written by seasoned screenwriter Armando Saldanamora and is Directed by visionary gothic artist Brad Strickman.
PROGRESS is produced by both Saldanamora and Nicole Wright ("The Philosopher Kings"). Director of Photography is Boa Simon ("Summer Campbell") and on board to compose all original music for the series is Keith Stacey ("Blind Turn," "Nickel Children"). All original illustrations plus additional materials (some cool weekly comic strips and downloadable trading cards) are done by Andrea Garduno.
This is a truly innovative series inspired by the internet and made explicitly for the internet. The high production value, despite the ultra low budget, allows PROGRESS to stand out above other popular series in the steampunk, sci-fi and thriller genres. Wright says: "Our project is not just about internet culture, but also about collaboration. Our network of amazingly talented filmmakers have donated time and services to make the teaser video possible along with support from Studios60.com who donated the location. We hope to raise at least $115,000 for the series so that we may compensate these filmmakers for all their time and talent."
Along with their Indiegogo campaign they are also seeking financial and product sponsors. Rewards will be given to these businesses as appreciation and any business to donate $5,000 or more will receive an original Victorian-themed advertisement that is placed directly into the story and series. A complete list of Sponsor Rewards can be viewed at www.progresstheseries.com/Sponsors.
To learn more and find ways to support the production of PROGRESS, please visit their Indiegogo page: http://www.indiegogo.com/projects/progress-gothic-steampunk-web-series/x/2588355
Short link: igg.me/at/progress
Connect with PROGRESS on Facebook:
www.facebook.com/ProgressTheSeries
Connect with PROGRESS on Twitter:
www.twitter.com/ProgTheSeries.