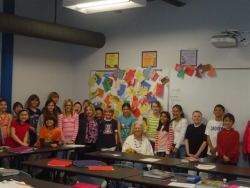 Tucson, AZ, March 14, 2013 --(
PR.com
)-- Elmcroft of River Centre granted Elva Cunningham's dream to return to the classroom as part of their Second Wind Dreams program, which grants wishes for seniors.
Elva became a schoolteacher in Illinois right out of school and continued on until retirement. Throughout her career, Elva enjoyed teaching all ages. Elva's dream was to be able to teach again. Elva lives at Elmcroft of River Centre in Tucson. Elmcroft made arrangements with Basis Tucson North, across the street from Elmcroft, to teach a class for Ms. Brauer's 5th grade literature class. Elva and the students read and discussed the moral of stories in Aesops Fables. Elva then assigned them a drawing project, which involved the students drawing a scene from their favorite fable. The students rewarded Elva with a card, flowers, a Hall Pass and a lovely apple. Elva lived her dream thanks to the kind support from the new Basis school.
About Elmcroft:
Elmcroft of River Centre is an Elmcroft Senior Living community. Elmcroft operates 107 senior living facilities in 19 states across the United States. Elmcroft offers services from independent and assisted living to specialized Alzheimer's care. Elmcroft also operates facilities specializing in skilled nursing and physical, occupational and speech therapies designed to return patients to their highest level of independence.
Elmcroft Senior Living provides quality senior residential care in a welcoming environment where residents can enjoy their friends, their families, and their independence, while receiving assistance with the activities of daily living. Elmcroft residents enjoy many services and amenities such as three fine dining meals each day, enriching activities to stimulate physical, emotional and spiritual needs and housekeeping services. Licensed associates are on hand to assist with medication and provide around-the-clock monitoring for all residents.
For more information on Elmcroft of River Centre, contact 520.529.7100.
www.elmcroft.com