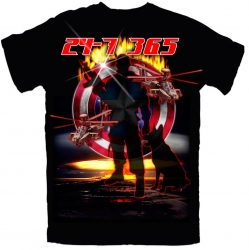 Wichita, KS, March 19, 2013 --(
PR.com
)-- The leading apparel brand, American Hero T Shirt has launched their latest T-shirt design called the 24-7
Patriotic T-Shirt
. The t-shirt, available in multiple sizes, is just what one may need to show their support for the military troops and recognize the sacrifices they have been making at the war front, protecting the country from the enemy.
The t-shirt brand has launched a special offer to help raise funds for the troops. On every purchase of this amazing 24-7 Patriotic T-Shirt, which is priced at $24.95, $5 will be donated to charities that are engaged in helping the soldiers who have been seriously wounded, the families of those who lost their lives and the homeless war veterans.
The apparel brand is offering the citizens of the country a chance to do their bit by making a purchase of these patriotic t-shirts on their site. The t-shirts are available in sizes varying from small to 3X large. The black printed t-shirt has an imprinted image of a faceless, armed soldier and his canine companion, with the numbers 24-7 365 on top, depicting that the soldiers are putting their lives at risk round the clock, to defend the nation and its citizens.
The t-shirt can be purchased online, through the site http://americanherotshirt.com/. American Hero Shirts also has a variety of other t-shirts under its patriotic category. More information about the brand and its products is available on the site.