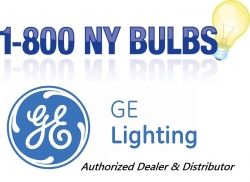 Mamaroneck, NY, March 19, 2013 --(
PR.com
)-- After 25 years of providing lighting design, supply and maintenance services,
1-800 NY BULBS, Ltd.
is proud to announce its partnership with General Electric Lighting. The Westchester-based company has received the distinction of becoming an Authorized Dealer and Distributor of
GE Lighting
Products, placing them at the forefront of the lighting industry.
GE is the industry leader in lighting innovation and technology. This partnership falls directly in line with the immediate and future goals of 1-800 NY BULBS, Ltd. GE is the brand that stands a class above its competitors, offering cutting-edge lighting solutions with superior product quality.
"Being a partner of
GE
is a true honor," says Randall Satin, CEO of 1-800 NY BULBS, Ltd. "Their product quality and knowledge allows us to better serve our valued clientele. We look forward to a long and prosperous relationship between 1-800 NY BULBS, Ltd. and General Electric. GE has a long, rich history in shaping the visual landscape of New York, and 1-800 NY BULBS, Ltd. is proud to be their partner. Illuminating space is our passion, and there is no one better to work with than GE."
GE's rich history began in New York on April 24, 1889 when Drexel, Morgan & Co. financed research performed by Thomas Edison to form a company under the name "Edison General Electric Company." Over a century later, General Electric is listed by Fortune and Bloomberg Businessweek as one of the world's most innovative, admired and influential companies.