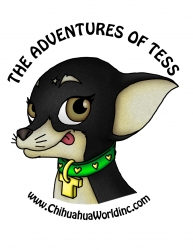 Hastings-on-Hudson, NY, March 21, 2013 --(
PR.com
)-- "The Adventures of Tess" - A new childrens' self-help book series gives children the confidence to overcome their fears and better succeed in life.
"The Adventures of Tess" is a true inspiration in every sense of the word. Tess is a super- hero; an ideal demonstration of a child's imagination at work. From the mind of Pamela Grunstein; working Mom, cancer survivor, and now children's book author. Follow Tess through all her adventures. Dare to dream.
Pamela Grunstein is a newly published children's book author. She is on a mission to help pre-school & elementary children 2-6 years of age overcome their many fears and anxieties. Her books are narrated by the loveable and quirky hero Tess, a stuffed Chihuahua who comes to life around children. Her books are full of colorful, bright, vivid details and imagery. Children will get lost in the illustrations. Tess will help parents deliver positive messages in a relatable way.
Her first book "The Adventures of Tess-The New Sister" addresses the concerns of only children who are getting ready for the introduction of a new baby into the family. Her second newly published book "The Adventures of Tess-Swim Class" helps children overcome their fear of swimming and helps build their confidence to try and learn how. Both books are now available on Amazon at
http://www.amazon.com/Adventures-Tess-Swim-Class-Pamela-Grunstein/dp/148250766/ref=sr_1_8?ie=UTF8&qid=1363814115&sr=8-8&keywords=adventures+of+tess
and
http://www.amazon.com/Adventures-Tess-New-sister/dp/148189952X/ref=sr_1_1?s=books&ie=UTF8&qid=1363814224&sr=1-1&keywords=adventures+of+tess
or on
www.adventuresoftess.com
.
Pamela was inspired to start this adventure by many events in her life... As a child, her mother was diagnosed with breast cancer at the very young age of 26. Four years later, it struck again; this time, taking her life and leaving her and her two sisters behind at the young ages of: 11, 10 and 6. Flash forward to 2008, Pamela was now married with a one year old baby, Jonah; she too was diagnosed with breast cancer, and found out she carried the BRCA1 gene which was most likely inherited from her mother. The most obvious thought presented itself. Will I live to see my son grow up? Who will take care of him? Who will love him? Who will replace me? As her son started to face challenges in life, Pamela searched for books to read to him. She found it difficult finding one that was relatable to him. She was also a huge animal lover, having owned cats, dogs in her life. But several years before she met her husband and had her son, she adopted a Chihuahua named…Tess. Tess was the love of her life. What better way to leave behind a legacy as well as unite two loves of her life than to start an adventure with Jonah and Tess; and so "The Adventures of Tess" was born. Pamela plans to write many more books on various fears and anxieties experienced by children. She welcomes anyone with a subject they feel passionate about to email her on her website www.Adventuresoftess.com. Pamela is currently in remission.
Contact:Pamela Grunstein
Cell: 917-647-3134
Email: plg822@gmail.com