KEOLABS Opens Asia Branch Office
New branch to support Asia customers with smart card and NFC certification expertise.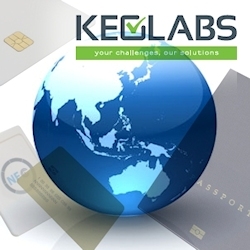 Hong Kong, Hong Kong S.A.R., March 28, 2013 --(
PR.com
)-- At the 2013 Cartes and Secure Connexions Asia trade show, KEOLABS announced the official opening of the companies' Asia branch office dedicated to serving customers in the region with expert support for their smart card and NFC conformance testing. Opening of the new office in Seoul Korea earlier this year was fueled by rapid growth in Korea, Greater China and Japan. "Opening of an Asia branch office was an objective for KEOLABS from the start. The rapid penetration of contactless and NFC technologies around Asia combined with important customer wins in the region only reinforced the strategic importance of establishing the new office early," stated Michael Leplatois, KEOLABS' President.
KEOLABS formed one year ago with the fusion of Soliatis and Raisonance – suppliers of smart card certification solutions and test equipment respectively. As a result the new company boasts the only "end-to-end" tool and service offer that is capable of accompanying customers from initial prototyping to conformance certification of finished products. Fueled by sustained sales of conformance testing services and solutions, KEOLABS is expanding its geographic presence to ensure optimal support of smart card and NFC implementers worldwide.
KEOLABS end-to-end offer includes a full range of hardware and software tools for testing smart cards, objects, components and systems that implement ISO 14443, NFC, FeliCa, SWP (HCI, HDLC) and ISO 7816 communications.
In the context of functional and application specific standards, KEOLABS also provides complete testing solutions for in-house validation of smart cards and associated systems (reader, phones) used in identity, transportation, payment and mobile telephony applications. These testing solutions are maintained in conjunction with the companies' Certification Center to ensure their strict adherence relevant standards.
KEOLABS' ISO 17025 accredited Certification Center provides a full range of services for functional and application-level conformance certification of contact and contactless smart cards, objects and systems. The center is recognized for its technical expertise, which is the result of 8 years of experience in consulting and test tool development for ISO 7816, ISO 14443, ICAO and NFC. The center implements a complete ISO 17025 quality system covering organizational processes, operating procedures, test methods, calibration of equipment and staff competence in order to ensure the quality, traceability and reproducibility of its results.
About KEOLABS
KEOLABS is a leading provider of tools and services for testing microcontroller and secure component implementation. The company has two activities: Smart Card Validation and Microcontroller Tools.
KEOLABS Smart Card Validation activity provides an end-to-end product and service offer for validating and certifying smart cards and related technologies in accordance with industry standards. KEOLABS participates in all major certification processes for the secure transaction and identity sectors. The company offers a comprehensive range of solutions for validation of all layers of contact and contactless secure components from the electrical to the digital and application layers.
KEOLABS service branch includes the ISO17025 accredited Certification Center offering test services to all stakeholders in the secure component sector for smart cards, handsets, ePassports, electronic driver's licenses and card readers.
KEOLABS Microcontroller Tools activity provides a complete range of tools for creating, editing, debugging and programming deeply embedded microcontroller applications. Known under the Raisonance brand since 1988, this business unit serves customers that include leading component manufacturers and professional engineers worldwide. With expertise in both hardware and software design, the company offers innovative, high quality, cost effective tools that include compiler tool sets, integrated development environment, hardware starter kits and promotional products for 8 and 32-bit microcontroller technologies. Supported core technologies include industry standard ARM, 8051 and PowerPC, as well as several proprietary architectures.
Contact
KEOLABS
Fabien Pollet
+33 4 76 61 02 35
www.keolabs.com

Contact