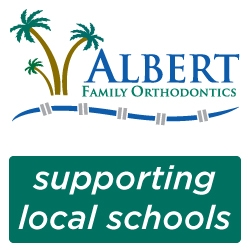 Trinity, FL, March 30, 2013 --(
PR.com
)-- Trinity Orthodontist Jeremy Albert recognizes the value of an education. After all, being an orthodontist requires not just dental school, but also post-doctoral residency and annual continuing education and Invisalign study. With education as a cornerstone in his life, Dr. Albert has launched the "Supporting Local Schools" program whereby he hopes to inspire community involvement in deciding which area schools will receive a charitable donation from his practice.
How it works: Using a desktop or laptop PC, visit the practice's Facebook page at
www.facebook.com/AlbertFamilyOrtho
, and click on the "Supporting Schools – Vote Here" application icon under the cover photo. Follow the steps to select your school(s) and cast your vote. At the end of the voting round on April 15th, the three schools with the most votes will enter a final round where one will be drawn to win a $1,000 donation. The other two schools each receive $250. "The fun part will be watching everyone rally their network of friends, families, etc. to join in voting," says Dr. Albert.
"Education is at the heart of community success. People move to an area because of the quality of its schools, and great schools yield strong advocacy in return. So the entire community prospers as a result of supporting local education," states Dr. Albert. "By inviting the community at large to participate in our 'Supporting Local Schools' campaign, we not only call attention to a worthy cause, but are also hopeful that doing such will incite a wave of school and community pride." With offices in both Trinity and Palm Harbor, Dr. Albert is hopeful that both communities will participate and benefit from this program.
Dr. Albert conceptualized his plan for using Facebook as the vehicle for "Supporting Local Schools" after a conversation with a patient's mother, who is also actively involved in her school's PTA. "We realized that this concept could have broader reach and greater availability if voting occurred via Facebook rather than in our office," states Dr. Albert. "The act of voting does not require a special trip to our office, and everyone in the area can be invited and participate at any time," he continues. "This makes it easier for a given school and/or PTA to recruit votes. And what's more, the philanthropy itself strikes at the core of what I want people to know about Albert Orthodontics. I'm an orthodontist in Palm Harbor and Trinity, but we, as a team, are first and foremost local residents."