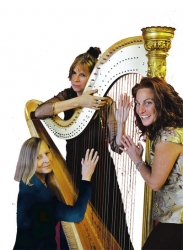 Walnut Creek, CA, April 04, 2013 --(
PR.com
)-- Harp Festival at Harps Etc. celebrates its 10th Anniversary.
Featuring Paraguayan harpist Carlos Reyes
World-famous harpist Heidi Lehwalder
Plus emerging star harpist Meredith Clark
Healing harp specialist Joel Andrews
And Celtic/Fusion band The Bindi Society featuring Barbara Imhoff
Individual event tickets: $35
Day Pass tickets: $99
Full Festival tickets: $275
All ages welcome. Portions of this event are wheelchair accessible.
For tickets and more information please visit http://tinyurl.com/harpsetc or call 925-937-4277
A harp store in Walnut Creek? They said it couldn't last, but it did and Harps Etc is celebrating its first 10 years of serving the harp community throughout California and around the world!
The Harp Festival will feature world class performers and workshop presenters.
The Festival opens on Friday, May 3rd at 8 pm with internationally-known Paraguayan harpist Carlos Reyes. World famous harpist Heidi Lehwalder will present a Master Class on Saturday, May 4th at 1 pm. Outstanding local harpist Meredith Clark will perform a program of music by Krumpholtz, Tailleferre, Renie, Caplet and Salzedo on Saturday evening at 8 pm and healing harpist Joel Andrews will play a concert for meditation and healing on Sunday, May 5th at 10 a.m. The Bindi Society, featuring harpist Barbara Imhoff, will perform an exotic fusion of timbres from Celtic, eastern and jazz traditions on Sunday at 6 pm. You haven't heard music like this before!
Workshops on harp repair and maintenance, harp ensemble performance and creative practice techniques will round off the weekend.
Tickets can be purchased for the entire festival or for individual concerts and events.
For the full festival schedule and registration please visit http://tinyurl.com/harpsetc or call 925-937-4277