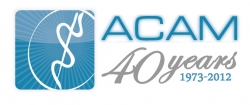 Irvine, CA, April 05, 2013 --(
PR.com
)-- American College for Advancement in Medicine (ACAM), a leading provider of integrative medicine, today announced that Gervasio Lamas, M.D. will be their special guest at ACAM's Spring 2013 Conference and Tradeshow in Hollywood, FL to present the results of the Trial to Assess Chelation Therapy (TACT). TACT was a multi-center international collaborative study sponsored by the National Heart, Lung, and Blood Institute (NHLBI) and the National Center for Complementary and Alternative Medicine (NCCAM) and was initiated in September 2003 by lead investigator, Gervasio "Tony" Lamas, M.D. to determine the safety and effectiveness of EDTA chelation therapy in individuals with coronary artery disease. "ACAM is thrilled that Dr. Lamas accepted our invitation to discuss the research results of the TACT Trial," said Michael Boutot, Executive Director for ACAM. "Our organization prides itself in educating and supporting the brightest minds of the discipline and feel honored that our guests will be able to better understand the findings of the TACT trial and its impact on the integrative community directly from the study chair," he added. ACAM's Spring Conference and Tradeshow takes place May 29-June 2, 2013 at the beautiful Westin Diplomat resort & Spa in Hollywood, FL. Dr. Lamas will be speaking at lunch on Saturday, June 1. For details on the event please visit:
http://www.acamflorida.com
About Dr. Gervasio "Tony" Lamas, M.D.
Gervasio A. (Tony) Lamas, M.D., is chief of Columbia University Division of Cardiology at Mount Sinai Medical Center in Miami Beach, Fla. and author of the TACT trial report. Dr. Lamas is the Chairman of Medicine at Mount Sinai Medical Center and Chief of the Columbia University Division of Cardiology at Mount Sinai Medical Center. He received his B.A. in Biochemical Sciences cum laude from Harvard College and his M.D. with honors (AOA) from New York University. He completed his Internship and Residency at the Brigham and Women's Hospital of Harvard Medical School, where he later served as Assistant Professor of Medicine. Dr. Lamas relocated to South Florida in 1993, when he became Chief of Cardiology at Mount Sinai and later served as the hospital's Director of Cardiovascular Research and Academic Affairs. From June of 2008 until January 2009, he was Director of the Cardiology Fellowship Program at Jackson Memorial Hospital/ VAMC/University of Miami, Director of the U.M. Hospital Coronary Care Unit, and Interim Vice Chair of Clinical Affairs at the U.M. Miller School of Medicine Division of Cardiology. Dr. Lamas returned to Mount Sinai in January 2009 as Chief of the Columbia University Division of Cardiology and Professor of Clinical Medicine, Columbia University College of Physicians and Surgeons. His interests include the treatment and prevention of cardiovascular disease. During the last decade, he has enrolled thousands of patients in more than a dozen U.S. and international trials in order to improve cardiac care and prevent death and disability from heart disease. He served as Chairman of the Mode Selection Trial in Sinus Node Dysfunction (MOST), a trial that led to profound changes in cardiac pacemakers. He served as Co-Chairman for the Occluded Artery Trial (OAT), and Study Chair for the Trial to Assess Chelation Therapy (TACT), a $30 million trial sponsored by the National Institutes of Health. He has authored over 300 scientific publications, and maintains an active clinical practice in Miami Beach and Key Biscayne.