Gay Rapper Nasty Nick to Perform Live at Jersey Pride, Drops Rihanna "Remix"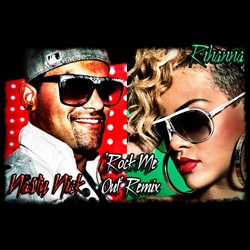 Asbury Park, NJ, May 03, 2013 --(
PR.com
)-- Rapper Nasty Nick is slated to perform at this year's Jersey Pride festival in Asbury Park, NJ on Sunday June 2. This will be New Jersey's 22nd Annual Pride Celebration and the event will take place from noon to 7:00 pm. This year is a going to be extra special as Asbury Park is coming back from the ravages of Super-storm Sandy.
Nasty was also featured on last year's line-up and would have been Deborah Cox's opening act but due to some unfortunate weather, the performance didn't happen.
If you're wondering what to expect; the rapper plans to perform a medley material off of his debut album "Lost in the Shuffle" to co-inside with some of his latest material from the up-coming release "West Side Story." Here is what Nick had to say, "I am really excited for this opportunity, it's great to be a part of something so big in the LGBT community. I have a special performance lined up and I will be bringing out Miss Danza Milian to rock the stage too, plus! I just remixed Rihanna's 'Roc Me Out' so we're going to do something really exciting with this one..."
"If you like Foxy Brown or Nicki Minaj, you are going to love Nasty Nick on stage." - JerseyPride.org.
This event will be sponsored by Bank of America & Prudential Financial, Jersey Pride strives to promote community participation and visibility between lesbians, gay men, bisexual, transgendered and inter-sexed people as well as the general public of New Jersey. For more information on Jersey Pride you can visit jerseypride.org. For more information on Nasty Nick and a free download's please visit nastynick.net.
Contact
Nasty Nick Music
Michael Solitario
347-552-2688
www.nastynick.net

Contact
Multimedia
Nasty Nick lends a verse to Rihanna's smash 'Roc Me Out'. For more information visit NastyNick.net