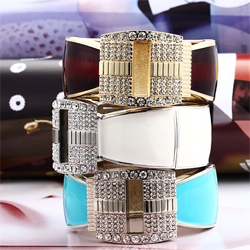 Shijiazhuang, China, April 12, 2013 --(
PR.com
)-- On April 18, 2013, the high-end jewelry forum will be held in the City of Shijiazhuang, capital of Hebei Province, China. The forum is for fashion trends of the jewelry market in the next five years. As China becomes an important jewelry consumer market, this high-end forum proposes ideas of new fashion, culture and inheritance with the background of rapid economic development. Furthermore, the new arrivals of
fashion costume jewelry
company Follobest (http://www.followbest.com) will make their public debut.
Meanwhile the Gems & Jewelry Trade Association of China, International Platinum Association, the China gemstone magazine, the newspaper of China Gold and other media, as well as dozens of leading experts in jewelry industry, business leaders, elites, the president of the Chamber of Commerce, the brand mall managers, and fashion media writers from all over China will be attending the event. Together they will attempt to predict the trend of China's jewelry market in the future, will exchange opinions with each other, and discuss developing talents in jewelry industry.
Newspaper of China Gold has reported that China has become one of few countries which annual consumer expenditure exceeds 30 billion USD in the world. China is top of the list for some precious jewelry consumption; overall, it is the most important jewelry consumer market in the world. China is also the largest country for jade processing and consuming; annual expenditure has been over 20 billion RMB. Yearly output of genuine pearls has reached a staggering 1400 tons, more than 95 percent of the total annual production around the world. Platinum consumption ranks the first for years. In 2010, about 54.5 tons of platinum were used for jewelry, accounting for 71.5 percent of the global jewelry platinum dosage. Also, China is the second largest diamond consuming country worldwide -the annual total of diamond jewelry consumption is no less than 25 billion RMB, larger than that of Japan for the first time. Additionally, the yearly amount of sterling silver jewelry consumption is around 800 tons and ruby sapphire, crystal, simulation jewelry and other
fashion jewelry
are also very popular in China, setting off waves of higher consumption.
Now the trade in the jewelry market is prosperous, and appreciation of jewelry also has been improved. All has been shown in the authoritative report from the Newspaper of China Gold. What is the future of jewelry market and talents in China? The news media raises this question. And all different opinions and ideas in this forum will certainly be worth looking forward to.