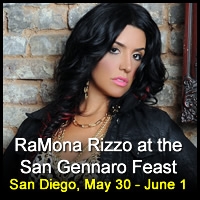 San Diego, CA, April 16, 2013 --(
PR.com
)-- Each Italian food festival expects to out-do the last, so don't miss out on the best San Diego Italian Food Heritage Celebration.
RaMona Rizzo is no stranger to the mob lifestyle. She is the granddaughter of the infamous Benjamin Ruggiero (aka Lefty Guns) who was played by Al Pacino in the movie, "Donnie Brasco." Enamored by the finer things in life, RaMona Rizzo didn't turn too far away from her upbringing, even though she married a man of Arab descent. His business dealings were also connected to "the lifestyle." RaMona's family was not happy with her choice as they wanted so much more for their daughter -– a doctor, a lawyer... a legitimate man. But alas, things didn't turn out that way as RaMona Rizzo ran off with her soon to be husband and father of her four kids.
They lived the high life until RaMona discovered that her husband's business was still built on lies and deception. They moved from mansion to mansion in the United States to palaces in the Middle East. When RaMona tried to divorce him, he refused to let her leave his country. Stuck in Jordan for two years, she fought tooth and nail to get herself and her kids back to the United States, even though her husband told her that if she leaves, she leaves with nothing. But this master manipulator could not stop Ms. RaMona Rizzo, and she has returned to the US so that she can give her kids a "normal" life.
Now back in the US and living the life as a reality TV celebrity from the hit show "Mob Wives," RaMona Rizzo will be appearing at the
San Gennaro Feast in San Diego, CA
at Qualcomm Stadium this May 31st – June 2nd 2013. Ms. RaMona Rizzo will be doing a meet and greet for all her fans as well as signing autographs for all who attend the San Gennaro Feast! Tickets to the San Gennaro Feast are only $9.00 per person. The San Gennaro Feast has 250+ vendors and a full carnival for all ages by Butler Amusements. The San Gennaro Feast would like invite everyone to their San Diego Italian food festival and have the chance to meet RaMona Rizzo in person! Come join them for the greatest San Diego Italian food feast California has ever seen!
Location of The San Diego Italian Food Festival
Qualcomm Stadium
9449 Friars Rd
San Diego, CA 92108
When The San Diego Italian Food Festival Occurs
San Gennaro Feast: May 30 - June 02, 2013
Thursday May 30 - 4pm to 11pm
Friday May 31 - 4pm to Midnight
Saturday June 01 - 11am to Midnight
Sunday June 02 - 11am to 10pm