Brooklyn Residents Poisoned by Toxic Mold Growth from Hurricane Sandy Flood Waters?
Brooklyn Residents Have Recently Been Reported to be Suffering from Allergies, Asthma, and Possibly Emphysema Caused by Toxic Mold Growth from Hurricane Sandy Flood Waters According to a Brooklyn Mold Inspection and Mold Removal Company in NYC.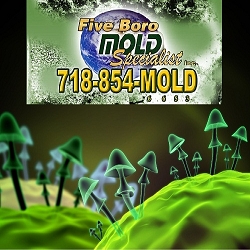 Brooklyn, NY, April 16, 2013 --(
PR.com
)-- Once again, the reverberation of the mold outbreak from Hurricane Katrina is suffered after Hurricane Sandy. The storm did not only smash up, but also encouraged the extensive growth of molds, in hundreds of thousands of houses in New York City, coastal New Jersey, and Long Island. The World Health Organization confirmed that molds aggravate respiratory problems, intensify allergies, and adversely affect people with weak immunity. Even the young and healthy people can acquire sickness from molds. It is important to increase the people's awareness on the gravity of this issue, and Five Boro Specialist helps by releasing a report on the adverse permanent impacts of molds to human health that can be acquired even from a very short exposure time.
A significant increase in the number of asthma, allergies, and emphysema cases in Brooklyn residents has been noted since the storm. Dr. Hylton Lightman, a pediatric asthma and allergy specialist in Far Rockaway, Queens, testified that the coughing and wheezing cases have increased since the storm. The impact of molds to the people's health should be taken seriously as they can induce long-term illnesses such as the development and aggravation of asthma in the elderly, children, and even in fetuses. They also induce skin diseases and allergies, headaches, and sinus problems such as fibromyalgia and emphysema.
Five Boro Mold Specialist Inc. released fore warnings to the public, through the mainstream media, on how the mold epidemic can affect their health. Their works for delivering Hurricane Sandy relief extend from promoting for more relief efforts, for more stringent procedures for devious Mold contractors, and for relief funding for families who cannot afford to remove molds from their homes. Five Boro Mold Specialist, Inc. poses very little to no cost to families who qualify. This unburdens the home owners and renters with low income from spending more money given the losses brought upon by Hurricane Sandy.
Five Boro Mold Specialists, Inc. is NYC's leader in
NYC mold inspections
, mold removal, mold abatement, mold remediation and water damage restoration for two decades now. For assistance regarding any mold issues, feel free to contact their hotlines. Five Boro Mold Specialists, Inc. is FEMA and OSHA registered.
Mold Removal Brooklyn
Contact Info:
Five Boro Mold Specialists Inc.
Manhattan: (212) 534-MOLD(6653)
Long Island: (516) 627-MOLD(6653)
Brooklyn: (718) 677-MOLD(6653)
Contact
Five Boro Mold Specialist INC.
Moty Katz
718-677-6653
http://fiveboromoldspecialist.com

Contact