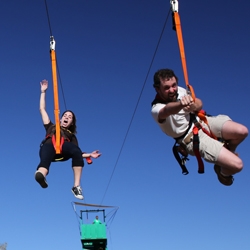 Penryn, CA, April 17, 2013 --(
PR.com
)-- Race Fans Experience Acceleration & Exhilaration at This Year's Indy 500.
Extreme Engineering Fly Wire™ Zip Line Debuts in Snake Pit Indianapolis, Indiana.
The Snake Pit at this year's Indianapolis 500 will feature, for the first time ever, a 220-foot Portable Zip Line by Extreme Engineering. A Moon Jump 4U, Inc., a division of AMJ Spectacular Events, will be operating the Extreme Engineering zip line during the Indy 500 race. Fans will have a unique view from the 3-story tall structure, and at speeds of over 20 mph, the Fly Wire™ Zip Line will add to the exhilaration of an already exciting day. The fun isn't restricted to kids anyone weighing between 50 and 250 lbs is eligible to ride.
The Indianapolis Motor Speedway has been considering a zip line since last year, and not surprisingly, safety was the number one concern. They considered several different vendors and manufacturers, and finally settled on AMJ Spectacular Events, from the Chicago area, Fly Wire™ Zip Line. AMJSE has a strong record of safety, and prior experience at big venues from Colts Stadium to The Oprah Show. The Extreme Engineering zip line will be available from 8 AM to 3 PM on the day of the race. The ride will be free and accommodates two people at a time, each on their own zip line.