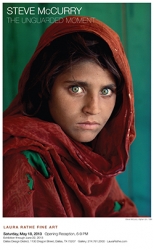 Dallas, TX, April 19, 2013 --(
PR.com
)-- Laura Rathe Fine Art announces the Dallas debut of internationally renown photographer, Steve McCurry, in a solo exhibition entitled, "The Unguarded Moment" with an opening reception on Saturday, May 18th from 6-9pm. Highly recognized with critical acclaim for his works featured on the covers and pages of National Geographic, McCurry has captured the beauty of worldly landscapes and has drawn public attention and awareness to various cultures abroad. In addition to the exhibition, Laura Rathe Fine Art will present an artist lecture and book signing with Steve McCurry on Thursday, May 23rd at 6:30pm.
About the Artist
Steve McCurry, recognized universally as one of today's finest image-makers, has won many of photography's top awards. Best known for his evocative color photography, McCurry, in the finest documentary tradition, captures the essence of human struggle and joy. Member of Magnum Photos since 1986, McCurry has searched and found the unforgettable; many of his images have become modern icons. Born in Philadelphia, McCurry graduated cum laude from the College of Arts and Architecture at the Pennsylvania State University. After working at a newspaper for two years, he left for India to freelance. It was in India that McCurry learned to watch and wait on life. "If you wait," he realized, "people will forget your camera and the soul will drift up into view." His coverage won the Robert Capa Gold Medal for Best Photographic Reporting from Abroad, an award dedicated to photographers exhibiting exceptional courage and enterprise. He is the recipient of numerous awards, including Magazine Photographer of the Year, awarded by the National Press Photographers' Association. This was the same year in which he won an unprecedented four first prizes in the World Press Photo Contest. He is also a two-time recipient of the Olivier Rebbot Memorial Award.
McCurry's work has been featured in every major magazine in the world and frequently appears in National Geographic magazine with recent articles on Tibet, Afghanistan, Iraq, Yemen, and the temples of Angkor Wat, Cambodia. McCurry is driven by an innate curiosity and sense of wonder about the world and everyone in it. He has an uncanny ability to cross boundaries of language and culture to capture stories of human experience. "Most of my images are grounded in people. I look for the unguarded moment, the essential soul peeking out, experience etched on a person's face. I try to convey what it is like to be that person, a person caught in a broader landscape, that you could call the human condition."
About Laura Rathe Fine Art
Formally established in 1998, Laura Rathe Fine Art represents a dynamic artist roster including emerging, mid-career, as well as blue-chip contemporary artists. With a primary focus on abstract expressionist painters, LRFA also represents diverse sculptors, mixed media artists, as well as photographers.
Located in the heart of the gallery and design districts of Houston and Dallas, Texas, LRFA hosts artist exhibitions, art walks, as well as provides art consultation services to private and corporate collectors and to the design industry.
For additional information, details or to schedule an interview, please contact
Janice Meyers, Director Janice@LauraRathe.com &/or 214.577.2437
Courtney Feavel, Assistant Director Courtney@LauraRathe.com &/or 972.762.1181