Eminent Spine Texas Diamondback Minimally Invasive Screw System
Eminent Spine announces the first use of their Minimally Invasive Screw System.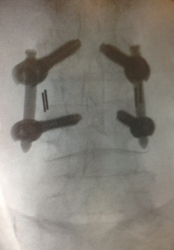 Georgetown, TX, April 19, 2013 --(
PR.com
)--
Eminent Spine
is proud to announce that spinal surgeon, Dr. Ross Sherban in Buffalo, New York, performed the company's first
Minimally Invasive Percutaneous Pedicle Screw
Surgery - the "Texas Diamondback". Dr. Sherban also utilized Eminent Spine's lateral "Black Mamba" retractor system and
lateral lumbar PEEK cage
, the "Rattlesnake."
When asked about the surgery, Dr. Sherban stated it was the "Most user friendly 'true' Percutaneous System I have used. The patient had minimal blood loss, with less than 15mm incisions. Eminent Spine has done an excellent job engineering and manufacturing a fabulous Percutaneous Posterior Pedicle Screw System."
Dr. Sherban is an expert in the latest minimally invasive and microsurgical techniques for the spine, using the most advanced tools and technology available today.
The "Texas Diamondback" system is the 12th product to be designed and released by Eminent Spine, since 2009. The screw employs Eminent Spine's triple lead thread technology, and the extended towers have been uniquely engineered. Once again, Eminent Spine has incorporated a clean and simple design into the implant.
Eminent Spine's Minimally Invasive "MIS" platform consist of: the "Texas Diamondback" pedicle screw system, the "Rattlesnake" lateral lumbar PEEK cage, the "King Snake" TPLIF PEEK cage, and "Black Mamba"
lateral retractor system
.
Eminent Spine continues to design, biomechanically test and manufacture spinal implants that are cost effective in an ever-changing health care market.
Contact
Eminent Spine, LLC
Steve Courtney
512-868-5980
www.eminentspine.com

Contact