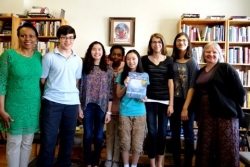 Charles Town, WV, April 19, 2013 --(
PR.com
)-- Four Seasons Books in Shepherdstown, WV hosted a book signing reception for the newly-released book, Climate Controversy 2013 on Sunday, April 14th. The essays of eight Jefferson County, WV student winners of the 2013 Common Ground Student Essay Competition are included in the publication.
The award winning student essayists are Patrick Rao, Avery Younis, Sara Miskus, Alexandra Persad, Gabi Cumbo, Emma Speck, Sahara Ellis, and Juluan Plaza. Top climate scientist contributors featured in the publication are Drs. John P. Abraham, Associate Professor, University of St. Thomas, Michael C. MacCracken, Chief Scientist, Climate Institute in Washington, D.C., and George M. Woodwell, Founder, Director Emeritus of the Wood Hole Research Center. The full color summary of climate science is affordably-priced at $24.99 and available for purchase with proceeds benefiting a donation to the nonprofit environmental work of the Natural Resource Defense Council.
Dr. Pamela Ellis, President of Books Motivate Foundation and book project visionary, stated, "The ongoing purpose for the publication of Climate Controversy 2013 is to provide a philosophical and scientific curriculum framework for education and community action in regards to the stark reality of climate change. The 2013 Common Ground student essayists and expert climate scientist contributors inform the public-at-large why reducing the human-induced, or anthropogenic, climate changes that have begun can no longer be ignored by anyone. It is our hope that people everywhere will take ownership of this critical environmental policy issue." Dr. Ellis further discussed Climate Controversy 2013 highlights during a presentation at the Shepherdstown Community Club monthly dinner meeting on April 16th with plans to further speaking engagements throughout the U. S. and internationally.
The U.S. State Department's final day for public comments on the climate change issue and Keystone XL oil pipeline development is on Earth Day, Monday, April 22nd. Submitted written comments are accepted by email: keystonecomments@state.gov.
Photo: (L-R) Dr. Pamela Ellis, Patrick Rao, Avery Younis, Sahara Ellis, Sara Miskus, Gabi Cumbo, Alexandra Persad, Ruth Raubertas, Co-Owner, Four Seasons Books.