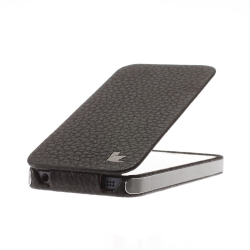 Los Angeles, CA, April 20, 2013 --(
PR.com
)-- Jison Case, premier manufacturer of high-end, handcrafted cases for Apple and Android devices, has unveiled its world-class Magnetic Closure Flip Case for iPhone 5. This luxe, yet practical case provides iPhone 5 owners with enhanced functionality and superior protection coupled with a chic, stylish design.
Made from premium genuine leather, the case also features a striking aluminum metal strip that offers protection for all sides of the phone. A special oxidizing process prevents rust, while a high-quality, soft interior lining protects against scratches, smudges and dust. Precise cutouts offer full access to the camera and controls, and the magnetic closure feature stops you from unnecessary battery waste. Stylish ruby red diamond-decorated volume and power buttons add to this premium iPhone 5 case's luxurious flair.
"Our Magnetic Closure Flip Case is where practicality meets luxury," said Arden Deng, CEO of Jison Case. "The customers who buy this case tell us they get nothing but compliments, which is no surprise; the blend of leather and aluminum, ruby buttons, and magnetic flip closure all make for an exceptionally beautiful case."
Jison Case is an industry leader when it comes to creating premium cases for tablets, iPads, iPhones and other devices. The product line offers elegant, clever and fun styles that let users express their unique personalities.
The Magnetic Closure Flip Case for iPhone 5 is available in black and red and can be purchased at Jisoncase.com for $97.
About Jison Case
Jison Case is a premier manufacturer of high end, fashionable cases for Apple and Android devices. Each case has been handcrafted from a selection of the finest genuine leather, sourced and imported from regions across the world, including Italy and Australia. Driven by a passion for design and craftsmanship, Jison Case is dedicated to creating premium products that enhance and protect the technology that is essential to our daily lives. Jison Case has offices in Los Angeles, Beijing, Guangzhou, Shenzhen, Hong Kong, and Sydney.