CIPC Conference Profiles Complexities of Insuring the Wealthy
High-Net-Worth Insurers, Agents, MGAs, and Related Companies Gathered Together for Education, Advocacy and Networking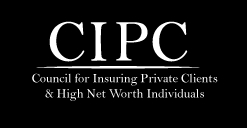 Dallas, TX, April 22, 2013 --(
PR.com
)-- The
Council for Insuring Private Clients (CIPC)
held its first annual conference in Dallas on April 9 and 10 and received unexpectedly high attendance and support from those in the insurance sector who focus on insuring the assets of private clients and high-net-worth individuals. The CIPC was founded by MarketScout in early 2012. ACE, AIG and Fireman's Fund are strategic partners and support the CIPC in its efforts to provide best practices, advocacy and education to insurers, agents and others involved in the business of protecting the assets of the wealthy.
"We are strong supporters of the private client insurance space and have always felt there needed to be a council or forum where like-minded specialists could gather to share ideas," said Richard Kerr, CEO of MarketScout. "When ACE, AIG and Fireman's Fund became strategic partners in the CIPC, it made the group stronger and more meaningful. The next logical step was to develop an advisory board consisting of some of the best agents in the country who focus on insuring private clients. The CIPC board has broad geographic representation which provides exceptional insight on the differing issues encountered across the US."
The CIPC conference included presentations from psychologists and wealth managers who provided insight on how the wealthy think as well as extensive demographics regarding where they work, live and play.
David Spencer, Senior Vice President / Director of ACE Premier, ACE Private Risk Services; Jerry Hourihan, Executive Vice President and CMO, AIG Private Client Group; and Lee Roth, Personal Insurance Executive, Fireman's Fund represented high-net-worth insurers on a panel that outlined the many challenges and opportunities for both insurers and agents.
Spencer Houldin, President, Ericson Insurance Services; Laura Sherman, Founding Partner, Baldwin Krystyn Sherman Partners; and Steve Brown, President, Hoffman Brown Company were part of a panel representing agents and the unique errors and omissions issues related to covering the assets of private client insureds. "The E&O session was the result of a wonderful collaborative interaction amongst my fellow panelists," noted Spencer Houldin of Ericson Insurance Services. "I feel the attendees at the CIPC loved the session. I know I really enjoyed working with Steve Brown and Laura Sherman. Their perspectives from the West Coast and Florida certainly rounded out the input I had from our New York location. Great session, great fun."
Fine arts and collectibles are an important specialty segment of insuring private clients. Michelle Impey, Fine Art Director, Fireman's Fund; Gary Raphael, Senior Vice President, Risk Consulting Group, ACE Private Risk Services; and Katja Zigerlig, Vice President, Fine Arts, Wine & Jewelry Insurance, AIG Private Client Group provided lively and informative interaction in their panel session that closed out the conference with considerable interaction between the attendees and panelists.
The CIPC will be announcing specifics about its Certified Personal Risk Management (CPRM) designation upon approval from related parties and will be setting forth details on the course curriculums.
Plans are already under way for the next CIPC conference to be held in April 2014.
About CIPC
MarketScout founded the Council for Insuring Private Clients (CIPC) in cooperation with insurers ACE, AIG and Fireman's Fund. CIPC will focus on implementing best practices and risk management techniques for insuring the personal assets of private clients. Any agent or insurer with a focus on insuring high-net-worth individuals may join the CIPC.
The CIPC's mission is to provide a venue where agents and insurers may collaborate on how to better serve their private clients. Insuring wealthy individuals is a unique, specialty area of the insurance industry and until now, there has not been a forum for sharing ideas and perfecting skills. Because collaboration is a benchmark for the CIPC, no single company or individual controls the direction and decisions of the Council.
About MarketScout
MarketScout is an insurance distribution and underwriting company headquartered in Dallas, Texas with a specialty expertise in insuring private clients. The firm is a Lloyd's Coverholder and MGA for U.S. insurers. MarketScout owns and operates the MarketScout Exchange as well as over 40 other online and traditional underwriting and distribution venues. MarketScout and its related companies have offices in Arizona, Arkansas, California, Connecticut, Florida, Indiana, Illinois, Louisiana, New York, Oregon, Tennessee, Texas and Washington, D.C. For more information, please visit us at marketscout.com, follow us on Twitter at twitter.com/marketscout and like us on Facebook at facebook.com/marketscout.
Contact
MarketScout
Kelly Hammett
972-934-4264
www.marketscout.com

Contact